From Mars Mission to navigation satellites to N-capable missiles: India scores big scientifically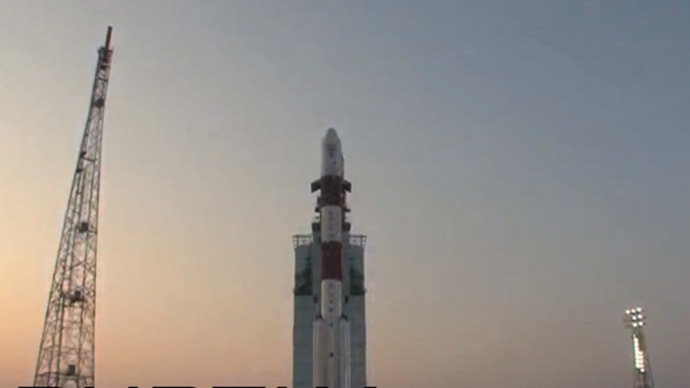 After last month's success of its maiden Mars Orbiter Mission, India has just notched up two more back-to-back scientific feats on October 16 and 17, both of which will beef up Indian military might in a big way.
India's N-capable Nirbhay stealth missile
On Friday, Indian defense scientists came up with a stellar accomplishment when they successfully test-fired the Nirbhay nuclear-capable cruise missile from Chandipur in the eastern state of Odisha. The Indian scientists' feat is all the more laudable as the Defense Research and Development Organization (DRDO)-developed missile was test-fired days after Cyclone Hudhud hit Odisha's coastal region.
Nirbhay (which means fearless) is India's equivalent of the United States' Tomahawk missile. The subsonic cruise missile has stealth features, which enhances its lethality. It can fly at tree-top level, thus evading enemy radar, and strike targets more than 700 km away. The missile can also carry nuclear warheads.
The highly maneuverable Nirbhay enriches the Indian missile basket which already has the 290 km range supersonic BrahMos cruise missile jointly developed by India and Russia.
Nirbhay is very different from other missiles in the Indian arsenal as it features an aircraft like wings and tail. It blasts off like a rocket and then turns into an aircraft. It is ideal for wartime conditions as it can be launched from a mobile launcher and is jamming-proof.
All the three Indian armed forces - army, navy and air force – will be introducing the Nirbhay, which despite its aircraft features, weighs about a ton and is just six meters long.
Nirbhay's most interesting feature is its "loitering capability." This means the missile can literally loiter around a target and strike it at the most opportune time. Moreover, Nirbhay is capable of delivering as many as 24 different types of warheads which means the military can pick and choose a specific warhead for maximum kill depending on mission requirements.
India's indigenous satellite navigation system
A day earlier, on October 16, India moved closer to achieving its long-cherished strategic goal of having its own satellite navigation system when Indian scientists successfully launched the third of the seven satellites planned under the Indian Regional Navigation Satellite System (IRNSS) from Sriharikota in the southern state of Andhra Pradesh.
Now India is just one satellite away from having its own satellite navigation system, and when the fourth satellite is launched in a few months time, the country will join the elite group of spacefaring powers, like the United States which has GPS or Global Positioning System, Russia with Glonass, Europe with is Galileo, China with Beidou, and Japan's Quasi Zenith Satellite System.
This will be a military and strategic game-changer for India; so far it has depended on foreign satellites, which may become unavailable in the event of a war. Although the Indian Space Research Organization (ISRO) is understandably tightlipped about the military applications of its latest satellite launch under the IRNSS program, it is obvious that the Indian armed forces would acquire cutting edge technology once they have their own indigenous navigation system.
For the record, ISRO says that the IRNSS system will be used for terrestrial, aerial and marine navigation, disaster management, vehicle tracking and fleet management, integration with mobile phones, mapping and geodetic data capture and visual and voice navigation for drivers.
According to ISRO Chairman K. Radhakrishnan, each of the seven satellites under the IRNSS program cost around $25 million. Also, India will be making an additional investment of a little over $150 million for setting up a chain of ground stations.
The IRNSS program comprises broadly two segments - the space and the ground – and will have two kinds of services, standard positioning service and restricted service. While the first one will be provided to all users, the restricted version will be encrypted and available only to authorized users like the military, security and intelligence personnel.
In fact, these two back-to-back Indian scientific accomplishments – the satellite launch and the missile test-fire - are in many ways complementary. After India has fully deployed its own satellite navigation fleet, tactical cruise missiles like Nirbhay will start using signals from the indigenous satellite navigation system.
The statements, views and opinions expressed in this column are solely those of the author and do not necessarily represent those of RT.
The statements, views and opinions expressed in this column are solely those of the author and do not necessarily represent those of RT.
You can share this story on social media: