'NATO has to get out of Balkans'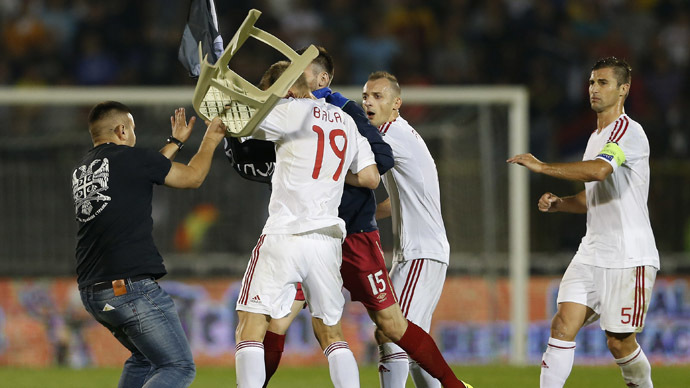 The normalization of relations between the Serbs and Albanians won't be possible unless NATO, whose intervention in the Balkans in 1999 made things catastrophic, gets out from the region, Nikola Mirkovic, independent political analyst, told RT.
A football match between Serbia and Albania that was held in Belgrade, Serbia, was called off Wednesday after a drone carrying a flag with the insignia of "Greater Albania" appeared above the pitch. It was followed by fighting between the fans. Osi Rama, the brother of Albania's Prime Minister Edi Rama, is suspected of piloting the drone.
RT:Both teams knew they were going to play against each other - why, do you think, they didn't voice any concerns prior to the match?
Nikola Mirkovic: Both countries are trying to show the most respectable image they can, and they are pretending that there are not tensions between both countries. I think there is a lot of good will on both sides. But in reality anybody who is following what is going at the Balkans from the political point of view knew that it was not going to be not just tense, but extremely tense, because there is a lot of tension [between Serbs and Albanians] since 1999 especially, throughout the 90's and even before. And everybody knew that it was going to be quite dangerous. It is practically a miracle that it only ended up with the drone and a couple of scuffles.
RT:How significant is what happened given that the brother of Albania's Prime Minister might have been the one who flew the drone with the flag?
NM: It is not a surprise. …Edi Rama says, Albania's Prime Minister says, that people from Kosovo and Albania should not have borders. There is the political agenda within the Albanian elite for long time; that all the Albanians living in the Balkans should join their land to Albania. There is a political project of a Greater Albania. So this is not surprising. If it is true that Edi Rama's brother did pilot this drone this is a very grave political and diplomatic incident. I think this could even [result in] the Prime minister of Albania leaving office because this is bad.
But whoever did this, and [how] it has been treated in the Albanian press, if you look in the streets of Pristina in Kosovo or in Tirana, there were big celebrations… This shows that there is very big public support for what has been done and this goes from the elite down to [ordinary] Albanians.
RT:Is it possible for Serbians and Albanians to ever get along? What needs to happen for at least have a chance of that?
NM: Foreign intervention has to get out of the Balkans. What has made the situation worse is definitely the NATO intervention and the breaking up of Yugoslavia. And that made things catastrophic. And if you take a look at the elections in Bosnia and Herzegovina last Sunday … it is not democracy, because half of people didn't go to vote and the others all voted for nationalistic parties. People are not getting along and the military presence and the bombings, and the war which was created by NATO and the NATO forces have made things worse.
The US has to get out, and the EU has to get out of the Balkans. And then you need time, you need communication, you need understanding. But you definitely cannot be a friendly neighbor if you are flying flags saying that you want to take parts of our lands.
The statements, views and opinions expressed in this column are solely those of the author and do not necessarily represent those of RT.