'If it walks like a Nazi and quacks like a Nazi – it's the far-right'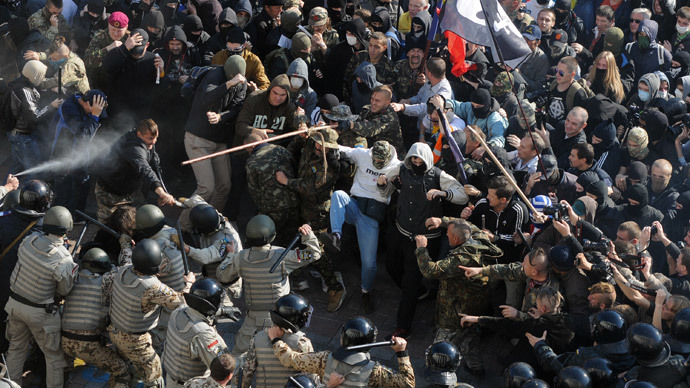 Western correspondents are at it again in Kiev. Airbrushing extremist elements in the 'Maidan' movement. It's shameful and can no longer go un-mentioned.
A British journalist and his American colleague stood on a bridge in Kiev. Across the busy road, a young, innocent-looking Ukrainian army officer, in uniform, walked a Labrador retriever. It wasn't golden. It was black.
"That's a very dark-colored Labrador," suggested the Brit.
The American took a puff of his cigarette and nodded his head, "Is it chocolate?"
"No, I'd say it's a kind of 'night' color, the color of the 'night', yes that's what is," reasoned the Englishman in disagreement.
"Could you say 'inky'?" the American quizzed.
"You could indeed. Jolly good. 'Inky' it is," laughed the Englishman.
The two men, delighted by their agility in finding ways to define the dog in every way except the correct form, had a joint chuckle. They were getting good at this. Almost a year ensconced in Kiev, finding myriad terms to soft-soap the most unspeakable acts had served them well. Over cheap, watery Ukrainian pilsners they would frequently guffaw about how their work had helped the "revolution."
As the latest crowd of nubile local young things gathered at their table, they'd show examples of how friendly they were to Ukraine. It was all online, in black and white. Life was good. A Western income stretched far in an impoverished land.
"What about the young soldier?" continued the Brit.
"Definitely not a Nazi," the American answered.
"The yellow and black symbol on his arm. Was that a Wolfsangel?"
"No, no. It was the symbol of the Azov Battalion."
They smiled. This routine was well practiced. Yet, just as the smirking began, the American's phone rang. There was trouble outside the parliament.
The first part of the above is my imagination, but I wouldn't include it if there wasn't a large grain of truth. The last sentence happened yesterday in Kiev.
Yes, 15 policemen were injured in Kiev and over 50 demonstrators were arrested in violent clashes. Euromaidan PR and employees of President Porshenko's TV channel made the ridiculous accusation that the protestors were pro-Russian. Pro-Russian's with Swastika's, making Nazi salutes. Yes, they really alleged it. Yes, their mendacity is really that shocking.
What actually occurred is that the extremists were annoyed because the Rada refused to pass a law recognizing WW2 Nazi collaborators as "heroes" of Ukraine. They took to the streets and, when police intervened, all hell broke loose. Not an uncommon sight in Ukraine, this year, sadly.
The Western media either ignored the story or attempted to airbrush the details. Here is a sample of tweets yesterday.
Leonid Ragozin – ex BBC and Newsweek.
As ever, radical nationalists by the Rada are trying to shift agenda from real stuff - like corruption laws, "incidentally" voted today.

— Leonid Ragozin (@leonidragozin) October 14, 2014
Christopher Miller – Mashable and Kyiv Post
Things getting rough on Hrushevskoho Street down the hill from parliament after nationalists try to break into bldg. pic.twitter.com/6YszrmgDvc

— Christopher Miller (@ChristopherJM) October 14, 2014
Maxim Eristavi, co-founder Hromadske TV
This day was too long, too bizarre and too far-right, Kyiv pic.twitter.com/XEvILxphhK

— Maxim Eristavi (@MaximEristavi) October 14, 2014
So, why is it that Western journalists in Ukraine are unable to call Nazis, "Nazis?" Instead of using the obvious term, it's replaced with "far-right" or "nationalists." Is it because the US government would never support Nazis? Far-right nationalists are more acceptable? Maybe they feel responsible for helping them attain influence and power by – almost to a man – supporting the Maidan riots and the subsequent coup?
Rather than admit to some past mistakes, it appears white-washing is a better policy for the EU and US media.
The honest thing would be to describe the Ukrainian Insurgent Army for what they were. Funded by Nazi Germany, they mass murdered Jews and Poles. This is continuously sketched over and they are presented as something similar to the Red Army or the Royal Air Force. The same RAF that defeated Germany in the skies and the same Red Army that liberated Europe from fascism. To even infer some level of equality for the UPA with those forces is a hideous thing. However, it's happening daily in the Western press.
The American poet James Whitcomb Riley is thought to have penned: "When I see a bird that walks like a duck and swims like a duck and quacks like a duck, I call that bird a duck."
When correspondents in Kiev see Nazis, they report only the presence of far-right nationalists, a far more palatable term.
Welcome to the bizarre world of Western media in Ukraine. A self-contained pit of rumor, fear, braggadocio and propaganda.
The statements, views and opinions expressed in this column are solely those of the author and do not necessarily represent those of RT.
The statements, views and opinions expressed in this column are solely those of the author and do not necessarily represent those of RT.
You can share this story on social media: