'European zoo visitors not willing to see wild animals on their plate'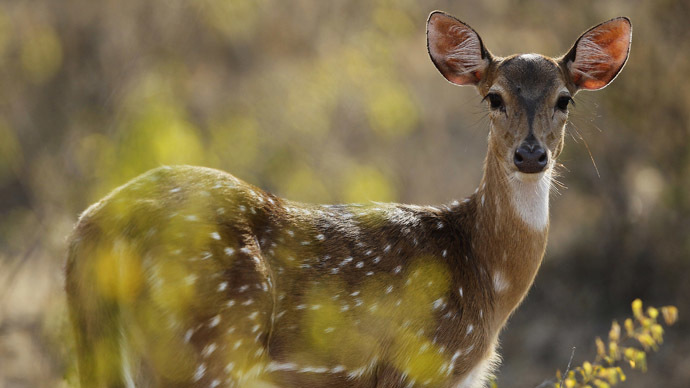 Europeans visit zoos because they love animals, but not to have them for lunch after they get killed as a result of poor management which leads to "surplus" animals, Neil D'Cruze, Head of Wildlife Research and Policy at World Animal Protection, told RT.
Langenberg Wildlife Park in Zurich, Switzerland was caught slaughtering surplus animals and serving them in its on-site restaurant.
Martin Kilchenmann, a spokesman for the park, made no secret that wild animals were killed and then put on the restaurant menu adding that this was "ecological."
READ ALSO:Oh, deer! Outrage as Zurich zoo puts animals… on menu
However, Dr. Neil D'Cruze, the head of Wildlife Research and Policy at World Animal Protection told RT he "has no idea why a proper zoological collection would want to breed wild animals and put them on the menu."
"That is the question that we are asking ourselves at the moment: why a zoo would engage in such kind of practice?" he said.
Despite the fact that Mr. Kilchenmann claims that most of the zoo's visitors support its "goodwill," Suzanne M - one of the zoo visitors and animal lovers - was very surprised by the peculiar approach of the park.
In fact, D'Cruze believes that the general public and visitors to the zoo are having the same reaction as they are at the Animal Protection - "they are appalled."
"Visitors go to zoos because they love animals and want to see them and want help conserve them. They don't want to see them end up on a plate in front of them at lunch time," he told RT.
According to the expert, it is all too often zoos have poor management practice in place which means they have an excess number of animals. "Rather than seeing the wild animals as individual animals that need care and should be looked after, they are seen as a resource and a surplus to requirements," said D'Cruze.
He thinks they come up with strange answers trying to solve the overcrowding issues. For instance, the administration of the Langenberg Wildlife Park argues that it is impossible to transfer animals elsewhere, and more than 100 animals are born there every year, according to The Local. That leads to animals ending up on restaurant plates.
Releasing wild animals back into their natural habitat is not always the easiest solution either as it involves a lot of technical requirements, Dr. D'Cruze said.
"You need to make sure that you are not introducing invasive diseases or not introducing genetic pollution into world stocks. A lot of hurdles need to be overcome in order to successfully release an animal back into the wild," he said.
"The best way the zoos can overcome the challenge of overcrowding is to focus on wild animals that are threatened by extinction in the wild. That way every single animal in captivity of part of that breeding program is a vital. Instead they should be really trying to make sure that those wild animals are part of an active program to put them back into the wild," D'Cruze added.
Thousands of animals are killed there every year in wildlife parks and zoos. Almost every member of the European Association of Zoos and Aquaria (EAZA) kills about five animals per year, according to the association's spokesman David Williams Mitchell and not all the animal parks belong to this organization.
Dr. D'Cruze says that if the public is appalled, people "would vote with their feet" for the wild animal conservation programs, and it will have financial and economic consequences for the zoo.
"If they were aware that animals are ending up on their plates at lunch time then…they will not go the zoo," he told RT.
The statements, views and opinions expressed in this column are solely those of the author and do not necessarily represent those of RT.
The statements, views and opinions expressed in this column are solely those of the author and do not necessarily represent those of RT.
You can share this story on social media: