'Great Wall-dorf Astoria: US trading its crown jewels for trinkets'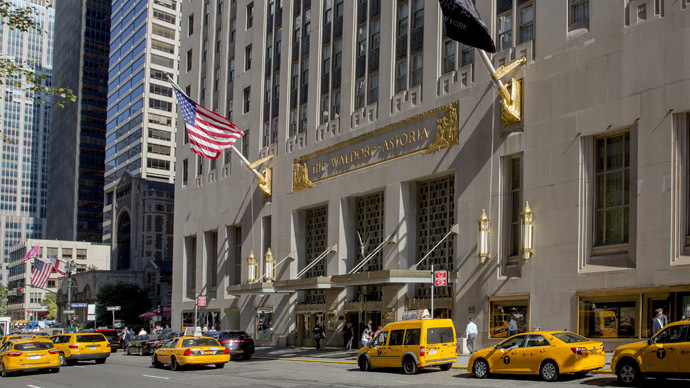 The selling of the Waldorf Astoria hotel in New York to a Chinese company means the end of the US iconic property, sold for the money American shoppers spent on goods made in China, Curtis Ellis, Executive Director of the American Jobs Alliance, told RT.
Beijing's Anban Insurance company has bought the Waldorf Astoria hotel, for $1.95 billion. It is the highest price ever paid for a US hotel, and is the largest acquisition of an American property by a Chinese buyer. Between March 2013 and March 2014 the Chinese spent $22 billion on buying US homes, according to the National Realtors Association.
RT:New York's famous and iconic Waldorf Astoria hotel is being snapped up by Chinese buyers for the highest sale price for a hotel ever - is there something symbolic in that?
Curtis Ellis: There certainly is. We have an iconic property known as the Waldorf Astoria. From here forward maybe it will be known as the "Great Wall-dorf Astoria" this is the end of the story that began in the aisles of Wal-Mart. We are trading our crown jewels in America for trinkets. Manhattan Island happened when Indians traded glass beads for the land. We are now trading the crown jewels of America for the trinkets made in Shenzhen, China and sold in the aisles of Wal-Mart. The money being used to buy the Waldorf Astoria came from American shoppers who are buying everything that is made in China.
RT:What's going to be the outcome for both sides over the property-hungry behavior of the Chinese on the American market?
CE: I'm sure that the real estate brokers and the Goldman Sachs float people in finance, insurance in real estate sector are quite happy. They make money any time a transaction is done. However, remember, every time President Obama, or whoever the president happens to be, comes to the United Nations he stays at the Waldorf Astoria. All of the heads of state when they come to Manhattan usually stay at the Waldorf Astoria. Now I understand that there are already plans for several million dollars of renovations to be done at the Waldorf Astoria. You can be certain that those renovations along with wallpaper and paint will include a fresh set of listening devices, electronic key snooping equipment, and perhaps a little video camera as well.
RT:Are we about to see a game changing shift of power in favor of China?
CE: We absolutely are. What we are witnessing is the greatest transfer of wealth in human history. America's wealth, America's productive capacity, the capital that had been accumulated over a couple of centuries of industrial growth is being transferred to East Asia and to China in particular in a volume and at the speed that has never been seen before in the history of any empire on Earth.
RT:How does the US currently treat China and its partnership with Russia?
CE: The US through its ham-handed approach to Russia over what is its natural sphere of influence in Ukraine is driving Russia towards an alliance with China. President Obama has managed to undo at least 50 years of diplomacy. First with the toppling of Gamal Abdel Nasser we tried to drive the Russians out of Egypt. He has managed now to drive Egypt out of the American orbit. Then we have seen Mr. Kerry, the Secretary of State; manage to invite Russia back to Damascus, again undoing 50 years of diplomacy. And now what we are seeing is the undoing of Richard Nixon's very elegant and suave statecraft to divide China and Russia. Now Mr. Obama is managing to bring them together again.
RT: With tit-for-tat sanctions now creating more pressure on Russia, does China benefit from this situation?
CE: China absolutely benefits from this situation by isolating Russia over what is essentially irrelevant to American long-term interest. It is driving Russia and China together. Russia has vast amounts of gas; China has vast amounts of capital as we are seeing in the Waldorf Astoria. And it has a huge market for the energy that Russia would like to sell.
The statements, views and opinions expressed in this column are solely those of the author and do not necessarily represent those of RT.