'Whatever is offered to Scotland has to be available to Wales too'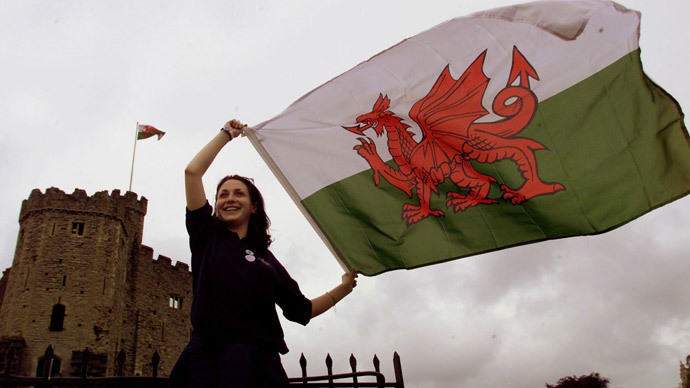 The Scottish referendum is a real victory for people power, although the UK establishment was against it. Now Wales needs to ensure that its needs and demands are heard as well, leader of the Party of Wales (Plaid Cymru), Leanne Wood, told RT.
RT:Scotland walked a very long road to get this referendum. Have they blown their chance?
Leanne Wood: What has happened in Scotland has been remarkable. It has been a David and Goliath battle really, with the "yes" campaign almost achieving what they set out to achieve from a very low base. The entire corporate media was against social media, the entire British establishment was against ordinary Scots coming together in town halls. So even though they haven't created a new state as the result of the referendum yesterday, they have achieved a great amount for democracy. And I want to whole heartedly congratulate the Scots for the way in which they conducted this debate.
READ: Scotland votes 'No' to split from UK in independence referendum
RT:The Scottish breakaway campaign was very strong, and yet it failed. What kind of example does this give to your movement which is aimed at independent Wales?
LW: I would say it didn't fail actually. The fact that so many people were engaged, so many people were talking about this and that there was very little apathy in the run-up to this campaign, it tells me that this is a real victory for people power.
RT:Before the referendum, the pro-union parties promised more powers for Scotland if they chose to stay. When can we expect this process to start?
LW: Today, it has to happen straight away. I have to say that the promises that have been made to people of Scotland, I am skeptical about them being delivered. But what I would say is that at the very basic minimum whatever is offered to Scotland has to be available to Wales too. There is a very real risk that we will have second or even third-class devolution here in Wales, while first-class devolution is being offered to Scotland. And that situation is simply not acceptable – we must have first-class devolution here in Wales too.
RT:Scotland put so much effort into this referendum…Does Wales have the stomach for this?
LW: There is a clear consensus among all the political parties here in Wales that we don't have the settlement that we need and deserve right now. In opinion polls there is an appetite from people to get greater devolution as well. It's an excellent time to ensure that Wales stops being the spectator nation we have been throughout this campaign, that we ensure that our needs and demands are right in the heart of this debate.
RT:What is good for Wales in your opinion? What do you want?
LW: Plaid Cymru wants to see Wales become an independent country of course. We believe the best people to make decisions that affect people in Wales are the people in Wales. So we will do what we can to maximize the powers that Wales has, and early next week Plaid Cymru will be publishing our next steps in a document that will be available for all to see. But it is very difficult at this stage with so little detail from the Westminster establishment to know exactly what to respond to at this point. We have to wait for more details to see exactly what is on offer to Scotland and then to know what we can push for in Wales too.
The statements, views and opinions expressed in this column are solely those of the author and do not necessarily represent those of RT.