Day 8: The Rainbow and Why you shouldn't watch a chopper land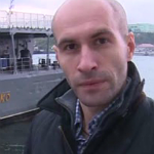 Murad Gazdiev, RT correspondent who has reported from a number of hot spots around the globe, including from the Syria-Turkish border, Yemen and Eastern Ukraine. He has also covered major international events, including Davos and the St. Petersburg economic forums, and even made a tour of duty with the crew of the Russian destroyer class Admiral Levchenko as it carried a military unit from the core base of Russia's Northern Fleet in Severomorsk to an unused former-Soviet base in the White Sea.
Published time: 16 Sep, 2014 18:45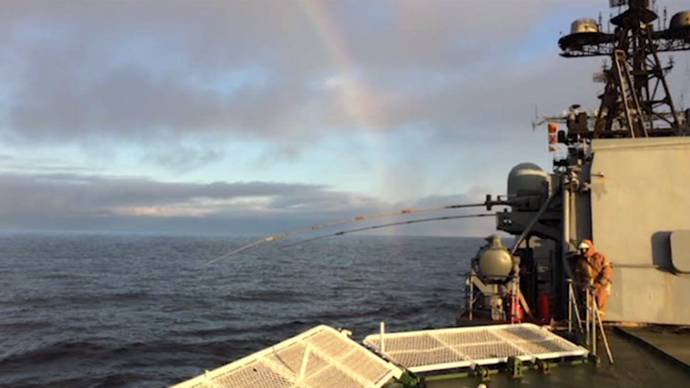 Thanks to our nuclear icebreaker escort, and Mother Nature's blessing, we cleared the ice-field in record time.
The morning after, the weather was absolutely incredible. It was still chilly, windy and very temporary, but picture-perfect.
Video: /files/opinionpost/2d/f6/80/00/2041245_site_rainbow_480p.mp4
Additionally, there was a wet lesson learned today.
Never stand on the lower decks as the helicopter comes in to land – no matter how pretty the view – you'll get drenched, and so will your camera.
I learned the hard way.
Video: /files/opinionpost/2d/f6/80/00/2041246_site_heli_480p.mp4
Over the last week, I've seen dozens of take-offs and landings – but it just don't get old.
The roar of the helicopter, the sea spray and the tension is captivating. It's amazing seeing something so big land on a tiny deck, which is on a moving ship.
It really makes you respect what the pilots do, and appreciate the effort they put into it.
In the evening after dinner, I stumbled on this small model of the ship we're on – Admiral Levchenko, thought it would be pretty cool to share:
The statements, views and opinions expressed in this column are solely those of the author and do not necessarily represent those of RT.