Putting the bankster foxes in charge of the BBC henhouse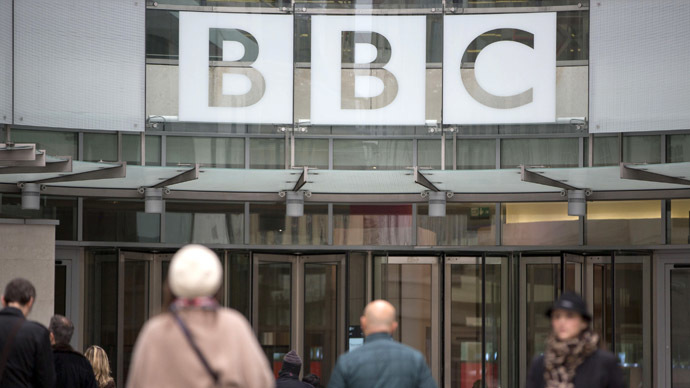 What a rare moment of razor-sharp clarity this week as a spotlight was shone deep into the rotten heart of Westminster, Whitehall and the City of London.
The Daily Mail revealed, one day after her appointment, that new BBC chief, Rona Fairhead, is being sued for supervising the laundering of billions of dollars for the Mexican drug cartels.
From the Establishment dominated corporation there was not a hint of repentance, instead a secret gagging edict was issued to BBC staff not to mention or discuss the fact anywhere, specially on social media.
Rather than running the BBC as HSBC 'Head of Risk' Ms. Fairhead has just been appointed to do, the bank's crooked bosses should be being investigated by the corporation and prosecuted by Scotland Yard. Not only have the bank that was built on the illegal Hong Kong Shanghai opium trade committed every fraud in the book, they were also fleecing rail passengers in a cartel of three Rolling Stock Operating Companies (ROSCOs).
HSBC owned untill 2010 'Eversholt Rail Group', which has a virtual monopoly in leasing trains to privatised operating companies which mean British commuters pay up to ten times more than their continental counterparts to get to and from work every day.
Millions of Brits await the BBC Panorama documentary exposing Rona's firm's crimes but we better not hold our breath if she is allowed to take up her post.
London as money laundering capital of the world
Just last week former Scotland Yard Fraud Squad detective Rowan Bosworth-Davies revealed senior figures at the annual 'Cambridge Conference on Money Laundering' (CCML) presenting shocking evidence that the City of London is the money laundering capital of the world. The Cambridge revelations went entirely unreported in the London media revealing that, far from speaking truth to power, their role is now to prop up the City's dying reputation. Immunity from any laws has quietly, since the sabotaged 1992 "Blue Arrow" trial, become the City's "unique selling point".
The BBC and Parliament are aware of the poison senior bank executives bring. The chairman who dragged Barclays through billions of LIBOR fraud, Marcus Agius was forced to resign from the BBC Executive Board in 2013.
Worried banksters are sinking their teeth into top BBC committees like Komodo Dragons killing a great old Wildebeast.
Can TV journalists dish dirt on their bosses?
It's a tale eerily reminiscent of Channel 4's classic 1980s cyber punk series 'Max Headroom' which portrays the weekly adventures of beleaguered TV news reporter Edison Carter. Week after week Carter battled to tell stories of corporate corruption, often within his own ruthless 'Network 23' and their biggest advertiser, the 'Zik-Zak Corporation'.
Organised crime's biggest fears are to either be jailed, or outed on national television which is why bankster wealth has been desperate to buy the BBC off for decades.
Civil servants paid by the public to work for the elite
But the real devils of this perfidious litany are parliament's Culture Media and Sport select committee who appointed Ms. Fairhead. Not only did these MPs sign up to the trashing of the public interest putting a bankster fox in charge of the newsroom henhouse represents, they failed to notice Rona has no relevant experience whatever for the job.
DCMS civil servants who prepared papers for the committee must have known what crooked favours for crooked friends were passing across their desks, so they too are culpable.
Twenty years to bring a great institutions to its knees
Ever since Victor Rothschild and Margaret Thatcher conspired in 1987 to remove the brilliant Director General Alasdair Milne the move toward privatisation has been inexorable. When DG John Birt brought in 'Producer Choice' in 1990s the writing was on the wall. All BBC departments were 'marketized' with all contact between the corporation's compartments, eg. sport, local radio, continuity or reference library tracked and charged for. It was a control freak's charter.
Her majesty's opposition, notable by its absence
Recently resigned BBC Chairman Chris Patten had a big personal financial finger in Bridgepoint, one of the private healthcare vultures currently devouring the National Health Service. Patten is a former chairman of the Conservative party who was roundly voted out as an MP in the 1990s by the good people of Bath in Somerset. Slated to replace him was another Tory, the former Olympic runner Lord Coe.
So where have Labour been while the Tory party have made the BBC their private property over the last decade? Silent.
Even when "the people's DG" Greg Dyke was sacked in 2003 for telling the truth about the "sexing up" of the Iraq "WMD" dossier we heard nothing from Labour. How, after all, could Tony Blair be wrong?
BBC - A tool of the titans
British journalism is already on its knees because of sweeping newsroom cutbacks, so a BBC controlled by banksters will see UK social justice dealt what may well be a final body blow. Pre recorded broadcast 'news' and newspaper desktop publishing also mean managers control what journalists are allowed to tell us like never before.
Post 9/11 'war footing' excuses for secret NSA/GCHQ hacking means the military can track journalists research as we prepare stories. Then the military can watch, word by word, in real time as we write and act to censor publication like never before.
The 9/11 Effect: Targeting domestic thought criminals us
newspapers exposed last week that there was "no legal basis" for George W. Bush's secret 2001 extension of the NSA's mass surveillance powers. Western governments have been using the "9/11 effect" to discard civil liberties right across the West. The real agenda of course is to increase military spending and destroy the very civil liberties our leaders pretend to hold dear.
In a "State of Emergency" the BBC Agreement provides for producers and journalists to be shut out of the corporation. Their jobs being done by Defence Ministry employees.
Freelance expert writers such as former ambassador Craig Murray and author of "Shredded" the expose of RBS, Ian Fraser have, since 9/11, found interviews cancelled at the last minute. Perhaps this is how the post 9/11 "war footing" BBC operates today? If GCHQ snoopers don't like an interviewee they simply tell the BBC to cancel it?
The nerve gas of rupert murdoch
As we found out from the 50 year long suppression of the Jimmy Savile paedophile story the establishment stranglehold on British journalism was already pretty tight.
As Pink Floyd's Roger Waters wrote in The Dark Side of the Moon album, "The [news]paper holds their folded faces to the floor. And every day the paper boy brings more." Yes indeed. There are indeed too many rich and ever more powerful people in the Western world, many of them criminals, who want the public to stay ignorant.
When the job of running Britain's national nervous system can go to someone with such an obvious personal interest in pumping it full of sarin gas, there can only be a few convulsions left, between here and tyranny.
The statements, views and opinions expressed in this column are solely those of the author and do not necessarily represent those of RT.
You can share this story on social media: