India-Pakistan-Afghanistan: Will the triangle give peace a chance?
Jhinuk Chowdhury
Jhinuk Chowdhury is a former journalist based in India and is currently working as an independent writer. She has worked as a business correspondent for the leading Indian daily – The Times of India – covering human resources, IT, jobs and careers.
You can follow her on Twitter @jhinuk28.
Jhinuk Chowdhury is a former journalist based in India and is currently working as an independent writer. She has worked as a business correspondent for the leading Indian daily – The Times of India – covering human resources, IT, jobs and careers.
You can follow her on Twitter @jhinuk28.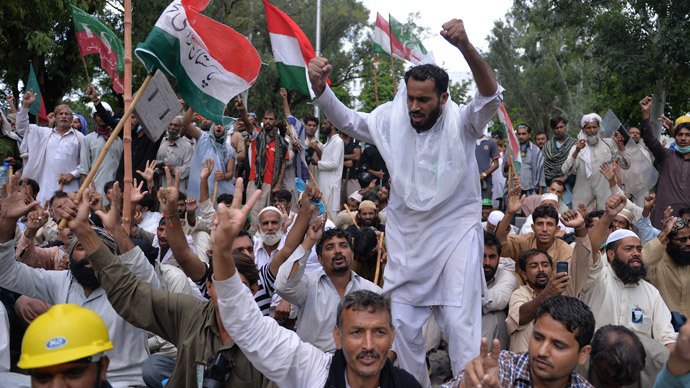 William Dalrymple's so-called deadly triangle comprising India-Pakistan-Afghanistan is now locked in another series of events that experts feel might give regional peace and stability some trying times ahead.
From speculations of possible outcomes after the US and NATO forces withdrew from Afghanistan, the recent calling off of foreign secretary level talks by India with Pakistan on account of the latter not acceding to India's condition of excluding Kashmiri separatists in the talks, to the ongoing political impasse in Pakistan – these three countries will have to work diplomatic magic to keep any threat to regional destabilization at bay.
The event that South Asia watchers are most closely tracking is the current standoff between Pakistani Prime Minister Nawaz Sharif and Imran Khan-led Pakistan Tehreek-i-Insaf (PTI) and Tahir ul-Qadri's Pakistan Awami Tehreek (PAT) who are demanding that Nawaz Sharif steps down from power.
With uncertainty looming large in Islamabad, Sharif's government has assigned a considerable part of state protection and law and order duty to the military. This, experts say, will restore the army to the helm of affairs in Pakistan, eventually giving them greater involvement in politics and thereby the country's foreign policy. The imminent outcome most fear is that this could have a profound impact on Pakistan's foreign policies towards India and Afghanistan.
As Woodrow Wilson Center's South Asian expert, Michael Kugelman, points out, "Effectively, two of the most strategic bilateral relationships in the region could suffer—India-Pakistan and Afghanistan-Pakistan. This is troubling for the region on the whole. South Asia is one of the world's most economically troubled regions, and one of its most poorly integrated regions. With these two bilateral relationships in crisis, the spillover effects across the neighborhood would be considerable."
Interlocutor for talks sapped?
Though relatively small in size, the anti-government protests have put the Pakistani government on the defensive allowing the military to step in to play its traditional role — stabilizer and protector of the state.
"This means that the military has reasserted its powerful role in politics, and it also means that the army will increase its grip on Pakistan's foreign policy—including policy toward India. The Pakistani government was genuinely interested in improving ties with Delhi. The military, however, does not share this interest. It has some interest in boosting economic ties with India (particularly as this could bring economic benefits to Pakistan), but beyond that it is not enthusiastic. After all, reconciling with India would undercut the Pakistani military's very legitimacy, which is rooted in the idea that India poses an existential threat to Pakistan and therefore requires a strong Pakistani military to protect the state from this threat," says Kugelman.
Though bilateral relations may not be snapped altogether, and meetings and confidence-building measures may continue, a formal peace process might suffer a blow at least until the time condition settles down in Pakistan. Experts feel even if dialogue is resumed, the Pakistani military's demands will prove too recalcitrant to allow the process to move forward successfully.
Referring to the recent stalled Indo Pak talks, Harsh V. Pant, professor of International Relations at King's College London cites that the main reason why India canceled talks is related to the acknowledgement that there is 'no real interlocutor' for India in Pakistan at the moment.
Barely a year into its second term, attempts by Sharif's government to mend ties with India, experts feel, will be grasped at a very early even premature stage if the current government fails to bounce back. The current political standoff has deeply weakened the prime minister's position; even if he recovers his ability to wield absolute power will be compromised.
As Farahnaz Ispahani, public policy scholar at the Woodrow Wilson Center and a Pakistani politician, who served as a Member of Parliament, says, "Even if he stays in place until the next election he does so greatly weakened. His moves towards better ties between India and Pakistan have been nipped in the bud because of the anger of the military, particularly the army and ISI, which may have resulted in the renewed clashes on the Line of Control (LOC). The trial of former military dictator and President of Pakistan Pervez Musharraf has also enraged the Pakistani establishment. They feel the trial of Musharraf lays a dangerous precedent for them. So, the promising start of a better relationship between the new Indian and Pakistani governments looks unlikely and therefore trade ties, a more liberal visa regime etc. will be on hold again."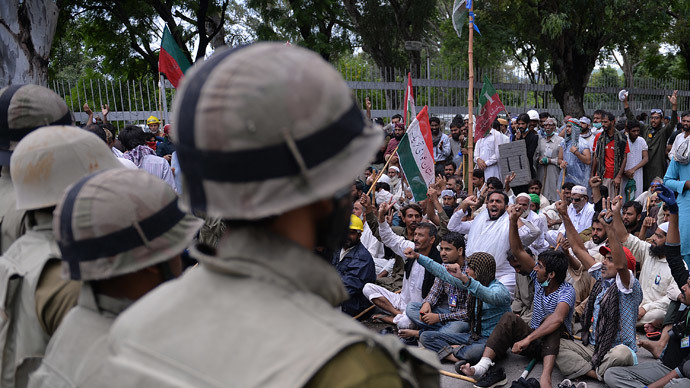 At worst, Kugelman says, the Pakistani military in control of India policy, may embrace the 'strategic depth' policy with grave implications for India. In effect, the various anti-India militants fighting in Afghanistan in recent years could turn their attention back to Kashmir and India proper after foreign troops have left Afghanistan. "And the Pakistani security establishment, emboldened from having gained the upper hand at Nawaz Sharif's expense, could be in a very strong position to offer resources to these jihadists that allow them to carry out nefarious activities in Kashmir and India. In essence, Pakistan's political crisis could indirectly contribute to destabilization in India."
Whose Sphere of influence
As the US-led Western security forces leave, the competition between India and Pakistan to increase influence in Afghanistan will intensify. India for its part already features as one of Afghanistan's largest contributors to its reconstruction with over US $2 billion in aid so far. India has strategic interests in the uniquely located Afghanistan as an access route for energy from Central Asia.
However, Pakistan sees the growing Indian presence in Afghanistan as a way of 'strategic encirclement' of Pakistan by India. It has long accused India of fueling separatist movements in Pakistan's Baluchistan area in partnership with Afghan officials.
Many believe the Pakistani military establishment's engagement in Afghanistan is primarily motivated by its struggle against India. Quoting Fighting to the End (The Pakistan Army's Way of War) by C. Christine Fair, Jon P. Dorschner, visiting professor of Political Science, at the University of Arizona says, "You must bear in mind when thinking about Pakistan that it is a praetorian state. That means that no civilian can make any decision that runs contrary to the military -- most particularly the Pakistan Army. The 'strategic culture' of the Pakistan Army is essentially unremitting hostility against India. The Pakistan Army believes that it is locked into a permanent, existential, civilizational battle against India. Afghanistan is a key component in this battle."
Some also believe that Pakistan's support for the Taliban is rooted in an attempt to counter balance India's growing influence in Afghanistan and also prevent the so-called Pakistan encirclement.
As Ispahani says, "The Pakistani establishment has not given up on its support of the Afghan Haqqani group or other Islamist groups it has dubbed as 'good Taliban'. After the Coalition forces led by the US and NATO pull out this will cause a great deal of stress between Afghanistan, India, Iran and Pakistan. India has built influence in Afghanistan through its liberal education policy, which enables Afghans to attend higher education institutions in India and helping Afghanistan with investments, infrastructure enhancement and trade. Therefore India will wield influence in Afghanistan post the withdrawal of international troops."
Kabul may even propose that India deepens its presence in Afghanistan next year — and this time, Kabul could suggest that India offer an increased security presence. In fact, India has recently decided to pay for arms and equipment from Russia to boost the strength of the Afghan National Army (ANA).
Kugelman fears that this would be alarming to Pakistan under most circumstances: "With the security establishment back in the saddle of security policy decision-making, Delhi may have even less of an incentive to push for some sort of deeper security cooperation with Kabul. It knows that the response from Pakistan would be even angrier than one with the military less in control of foreign policy," he continues.
Overall efforts towards cross-regional integration and economic development could be dashed by the inability of India — the region's largest economy — and Pakistan to patch their relations up, and by the inability of arguably the two most volatile countries in the region (Afghanistan and Pakistan) to do the same.
As Pant puts it, "This is a rather unfortunate development as after a long time there was an expectation that democratic process was taking hold in Pakistan. But those hopes have been belied and the militaristic future of Pakistan will continue for a while longer it seems."
Experts are hoping that the imbroglio in South Asia resolves and the Pakistan Army changes course by allowing civilians to take more control. India, too, should put in sufficient efforts to reassure Pakistan that it has no aggressive intentions to destabilize Pakistan. Regional stability is an important pre-requisite for India to emerge as a capable leader of South Asia. It certainly has to act decisively to ensure that there's no major regional disruption when the US/NATO depart, or due to any other political development.
The statements, views and opinions expressed in this column are solely those of the author and do not necessarily represent those of RT.