​Decoding Myanmar's intricate ties with major foreign powers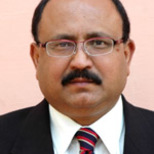 Rajeev Sharma is a New Delhi-based journalist, author and strategic analyst. He has been in journalism since early 1982 and has so far published two fiction books and five non-fiction books, the latter all pertaining to international politics and terrorism. He tweets @Kishkindha and can be reached at bhootnath004@yahoo.com. He describes himself thus: "I am a journalist not by vocation but by passion. If posterity ever were to remember me, it would do so for my investigative book 'Beyond the Tigers: Tracking Rajiv Gandhi's Assassination.' This book is the decoder for the quintessential journalist in me."
Published time: 27 Aug, 2014 09:48
Edited time: 27 Aug, 2014 13:15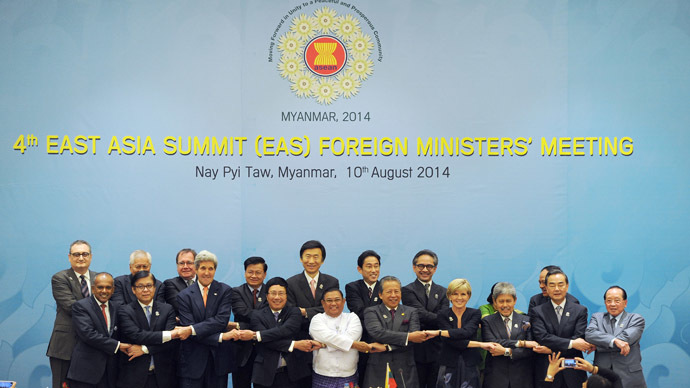 Myanmar is fast emerging as the hottest chess board of global power politics. Vietnam is another key country of ASEAN (Association of South East Asian Nations) to which major international powers are flocking.
Both these countries are being wooed not only by the United States-led western world but also by powers like Russia, Japan and South Korea. The underlying thrust of these two countries' international suitors remains just one: the China factor.
This writer had a freewheeling on-record interaction with the just retired Information Minister U Aung Kyi along with a select group of visiting Indian journalists in Nay Pyi Taw on Tuesday. The interaction was facilitated by the Indian embassy in Myanmar. Aung Kyi is believed to have the ears of the country's most powerful leader President U Thein Sein.
Like Vietnam, Myanmar too is pursuing an aggressively independent foreign policy and opening up its economy to investment. But unlike Vietnam, Myanmar is cautious about not alienating China by pursuing a bold and aggressive foreign policy to counter China. At the same time, Myanmar has not held back its punches even vis-a-vis China whenever it felt that certain Chinese actions were against Myanmar's national interest.
Myanmar-China relationship: A roller-coaster ride
Publicly Myanmar talks in gung-ho terms in praising China and describes China as a strategic partner. But one will do well to dig a bit deeper into this very interesting relationship which is not very different from a roller-coaster ride – sometime going up, sometime going down but the train is never out of control and the thrills are the added bonus.
Five years ago, violent clashes in Kokang Special Region of Myanmar's northern Shan State went wild and as a result as many as 30,000 refugees fled to China's neighboring province of Yunnan. The incident sparked tension between China and Myanmar. During the clashes, several shells landed in Chinese territory resulting in death of a Chinese and several injuries.
The Kokang incident triggered a rare criticism of Myanmar's ruling military junta, and Chinese Foreign Ministry spokeswoman Jiang Yu went on record as saying that Beijing hoped Nay Pyi Taw could properly solve its domestic issues and safeguard the stability of the China-Myanmar border.
A couple of years ago, Myanmar took another very bold decision that riled China no end. Myanmar abruptly "suspended" China's $3.6 billion Myitsone hydroelectric power project because of widespread allegations of how the Chinese were harming not only the ecology and environment of Myanmar but also shortchanging the local population. For years allegations by locals have surfaced against the Chinese, but this was the first time when Myanmar took such an extreme step.
Actually what Nay Pyi Taw did was taking much-delayed action on reports of alleged sins of omission and commission by the Chinese. The sense of the extreme hurt experienced by Myanmar can be gauged by the fact that two years later the Chinese dam project was shelved by Myanmar; the Thein Sein regime has not budged an inch even after numerous entreaties by the Chinese to restore the project.
And yet despite all this Myanmar Information Minister U Aung Kyi sought to downplay the Myanmar-China problems and said China continued to be a valued 'strategic partner and friend' of Myanmar. This shows and demonstrates what China means to Myanmar.
The capital saga
India is nowhere as close to Myanmar as China have been and still are. One of the reasons perhaps relates to the mysterious events leading to Myanmar shifting its capital from Yangon to Nay Pyi Taw in November 2005 and coming up with a brand new capital city.
It still remains a mystery why Myanmar decided to shift its capital in the first place and how Myanmar was able to come up with a swanky new capital city very quickly and how and where the requisite funds came from.
Diplomats in Nay Pyi Taw estimate that building the new capital won't have cost less than $40-50 billion. They assert that China loosened its financial strings and funded the cost of the new capital in a big way with countries like South Korea chipping in with substantial contributions.
Foreign powers make a beeline to Myanmar
India is just one of the many important foreign powers who are courting Myanmar. China wins this competition hands down having invested $14 billion in Myanmar already.
In comparison, India's investment in Myanmar stands at a paltry $278 million. Vietnam's investment is nearly double that of the Indian investment in Myanmar. Then there are foreign powers like South Korea, Japan and even Russia who are entering the Myanmar strategic space in a big way.
Clearly, Myanmar is enjoying this gold rush of the world community heading toward Nay Pyi Taw and is eager to garner every foreign investment which comes its way.
However, there is a word of caution for India as confirmed by U Aung Kyi. In response to a question whether Indian companies were actually indulging in window shopping and not coming up with big ticket investments yet, he confirmed this, and added that Myanmar expected the Indian companies to walk their talk and come up with concrete investments.
Indeed, Myanmar has come a big way in the last decade and ended its international isolation effectively. This is demonstrated by Myanmar's external trade which has grown to $19 billion last year from a paltry $4.5 billion a decade ago.
Rajeev Sharma for RT, Nay Pyi Taw
The statements, views and opinions expressed in this column are solely those of the author and do not necessarily represent those of RT.