Goodbye to Carl Bildt, out of line and out of time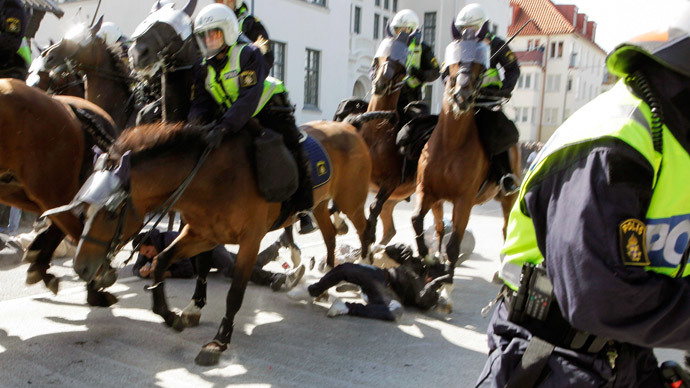 ​About a decade ago, I spent a lot of time in the beautiful country of Croatia, where I developed an interest in ex-Yugoslav poetry. My favorite is probably Zagreb's Miroslav Krzela, but a modern scribe who intrigues me is the Serb, Dejan Stojanovic.
In his wonderful 'The Sun Watches the Sun' he writes: "Statesmen are grocers, ambitious clowns." Whenever I read it I can't help but think of the Swedish Foreign Minister, Carl Bildt. For if one is looking for the ultimate contemporary political bobo, it has to be Bildt.
"For a moment at least, be a smile on someone else's face," continues Stojanovic. The Swede's rantings often cause a curl of the lips – but it's laughing at him, not with him. Now, the time has come to say goodbye to Carl as his government faces a heavy defeat in September's Swedish parliamentary elections. This isn't tinged with sadness; Bildt has literally become a joke that isn't remotely funny anymore.
If any single European politician has blood on his hands in Ukraine this year, it's Stockholm's resident neo-con fanatic. He constantly encouraged the violent 'revolution' in that tragic, divided nation. This weekend, his administration was busy spilling it around the streets of his own country.
Nazi party, Sveskarnas (The Swede's Party), were holding a meeting in Malmo and over 2,000 people gathered to protest in a square near the Oresund Bridge – an engineering marvel that connects the country to Denmark. As its leader, Stefan Jacobsson, appeared on stage, the concerned citizens began to chant: "No Nazis on our streets." At this point, police on horseback – for reasons I can't fathom – riding at full gallop charged the crowd in defense of the fascists leaving ten people injured, five of them seriously. Dozens of protestors were also arrested.
Now, we do know that southern Sweden has something in common with western Ukraine - a strong fascist community and this has been apparent for decades. Swedish mercenaries have popped up in Kiev in recent months and their foreign minister was clearly the most radical European politician in supporting the coup, which was primarily instigated by far-right elements. The Sundance Kid to his Butch Cassidy, Polish counterpart, Radoslaw Sikorski, was incredibly vocal at first, but has largely vanished after leaked tapes showed him expressing his concerns that "the Polish-US alliance isn't worth anything."
How much this owes to political concerns back home and how much to Bildt's own fantasies is unclear. It is true that the Sweden Democrats, a previously marginal grouping, are now clearly the country's third-biggest party, scoring over 12 percent in recent opinion polls. In the 2010 election they obtained only 5 percent, which shows they are a movement on the rise. Meanwhile, Bildt's Moderate Party has fallen from 30 percent to about 20 percent.
To give a taste of their policies, local politician Par Norling contended in 2012 that practicing Muslims should be deported and Islam banned in Sweden. Their MP Stelllan Bojerud (author of a book, Nazism in Sweden) claims that scientific research shows that immigrants have a 'lower IQ' than native Swedes. Replace Sweden with Ukraine and you'd be pretty close to the territory occupied by Svoboda, a Nazi party which currently holds governmental office in Kiev. The only difference being that Ukraine is a massive net emigrant state, which attracts very few immigrants – hardly surprising when the average monthly working wage is a mere €173.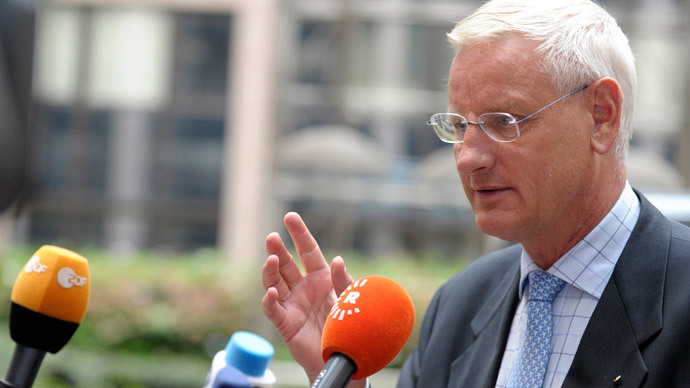 Ukraine and the Scandinavian nation are not unique in contemporary Europe. In Hungary, Jobbik routinely persecute Jews and Roma. Further west, Italy's Lega Nord last year called for a "white Christmas" where police would target immigrant neighborhoods to find the undocumented. And Greece has Golden Dawn which likes to attack foreigner-owned businesses. Next door to Sweden, one of the SD's biggest supporters killed 77 people in 2011 for their "multiculturalism." Anders Behring Breivik is currently serving a 21-year sentence (the maximum allowed under Norwegian law) for his hideous crimes.
Last December, Bildt cautioned that "violence must be avoided" in Kiev and in February he was calling for asset freezes and visa bans for those behind it - so long as they were on the elected government's side of course. He spent the winter months tweeting dozens of daily messages of support to Western Ukrainian activists and a volley of threats to the elected President Yanukovich.
After the latter's ouster in the February coup, he then turned his fire to Moscow and he has continuously used his position as foreign minister to back pro-Kiev forces in the civil war and scold the Kremlin. Now, in his final days in office, he is so divorced from reality that he's promoting an EU bailout for Ukraine's crippled economy – notwithstanding the fact that Brussels is unable to save existing members like Greece and Spain.
In fact, Bildt is so incredibly attached to using the Ukrainian people as proxies for his neo-con tussle with Russia that he managed to tweet them congratulations on their Independence Day 24 hours early on August 23rd – the actual date is the 24th. Of course, that was the day after his imagination declared that Russia was invading Ukraine with big white trucks. Our hero was unable to see what the rest of the world saw: humanitarian assistance to a city with no electricity and dangerously low food stocks and medical supplies. Instead, Bildt decided that the 76th Russian airborne unit were launching a "full-scale attempt to secure key areas." Doubtless this was news to the soldiers who were, presumably, planning their weekend in Russia around that time.
Bildt rose without trace from an aristocratic background in Halmstad to become Sweden's first right-wing prime pinister in six decades back in 1991. He immediately dedicated himself to securing EEC membership in 1995 and presided over an economic crisis but, to his credit, reforms he instigated did create the conditions for recovery. The combative Swede then turned his attention to foreign policy, initially taking on various EU and UN roles in the former Yugoslavia.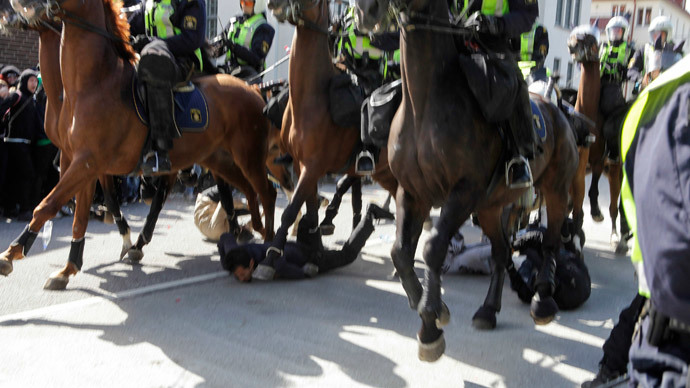 In the Balkans, Bildt managed to unite all parties - against him. Croats remember him accusing their former President Franjo Tudjman of war crimes and Serbs recall his subsequent fervent support for Kosovan separatism, a concept he is now viciously opposed to in Ukraine. He was initially sympathetic to the Bosnian Serb position before he managed to ingratiate himself with US officials and suddenly changed tack. So detested was Bildt in Croatia that, in 1995, their government declared him persona non grata. It was also around this time that he became friendly with the Clintons and assumed the role of America's favorite European 'useful idiot.'
Bildt's ability to make himself unwelcome reared up again in 2008, when the Russian Foreign Ministry announced that he was no longer welcome in Moscow after he compared the country to Hitler's Germany, when the pro-NATO former Georgian regime provoked a brief war over South Ossetia. Also, that year he received a stern rebuke from Israeli officials after he equated Benjamin Netanyahu to Hamas. Clearly, the pressure was getting to Carl. This year, he claimed that a Scottish vote to leave the United Kingdom would lead to a 'Balkanisation' of Britain, a comment that made him as popular in Edinburgh as the 'Hammer of the Scots', King Edward I.
Despite his subservience to Washington, the feeling wasn't mutual as Wikileaks revealed in 2010. Indeed, classified diplomatic documents showed US diplomats describing him as "stubborn,""arrogant" and having "limited diplomatic skills". They also revealed that former President George W Bush had been told to "play on Bildt's desire to operate at a high level" and to feign respect for his previous international assignments. In 2012, the Stockholm tabloid Expressen claimed that Wikileaks had proof that Bildt has worked as a US spy since the 1970s. Given that no evidence has emerged this report was likely erroneous.
Now it's time to say "adjo" to Carl as the Swedish public decide that they have had enough of both his antics and the Moderate Party. My bet is that, like a bad smell, he won't go away completely and will find roles in various US-sponsored think tanks, a time-honored retirement tradition for Washington's Euro patsies.
However, on September 14, Swedish voters are certain to elect a center-left government and Bildt's veneer of democratic legitimacy will be gone. Bad news for European neo-con movements but excellent news for the safety of civilians everywhere, especially in Ukraine.
He won't be missed. However, as Stojanovic added in his poem: "Even if you are alone, you wage war with yourself."
The statements, views and opinions expressed in this column are solely those of the author and do not necessarily represent those of RT.
You can share this story on social media: