​'EU and Russia are in the first stages of an open trade and economic war'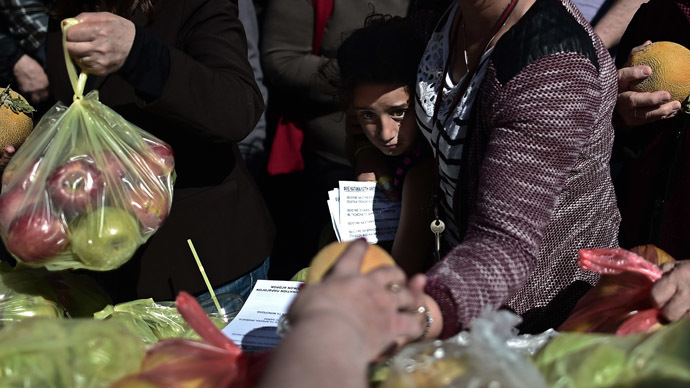 Russia and the EU have to look for a basis for a new dialogue of non-confrontation as they should be strategic partners working for consolidation of peace and normal economic life, Kostas Isyhos from Greece's left-wing SYRIZA party told RT.
RT:Why is your party calling to have the sanctions dropped?
Kostas Isyhos: First of all, because Greece is going through the 5th year of constant recession. The memorandum policy which has been followed with austerity programs in the last five years has created great problems for the Greek economy and especially for Greek exports. Russia has been a strategic partner for Greece in many farming and food exports products, and we believe that the sanctions that have been followed by counter-sanctions, we have been critical to this process because it is fueling the crisis, it is not deescalating the crisis, and the confrontation due to the Ukrainian crisis. So we are very much critical and in disagreement with the Greek government's policies in following these sanctions.
RT:Is the government likely to follow your demands?
KI: We are an opposition party, we are the first party in the last European elections as far as percentage is concerned, we are very large political force, we are trying to introduce strong arguments as far as convincing the Greek government, that has to stop following these sanctions that have been imposed by Washington and Brussels. This is going to hurt the Greek people, Southern European countries and the Russian consumers of course. This is not the situation of defueling the crisis or de-escalating the crisis. It is an open trade and economic war in the first stages, and we are very much worried because of the geopolitical, geographic and economic situation of Greece at this moment.
RT:Greece is still in the EU's bailout program. Can the country afford losing a key trade partner?
KI: We cannot. We should stand for expanding strategic issues as far as trade is concerned with Russian energy, food exports, tourism industry, etc. Instead we are seeing a decrease in economic relations on both sides and this is going to hurt Greece a lot, not only in the short-term but also in the medium-term and in a long-term perspective. We believe that we need partners to increase our exports in the next years, and this is a situation that is going to hurt us a lot.
RT:We are hearing a couple of EU countries are asking Brussels to fill the financial void left by Russia's actions, is it possible that Greece could be picking up the panic phone to Brussels?
KI: I see this possibility following the next hours or days but this is not going to be a recipe to heal the problem, it's an aspirin but it is not a long-term medical recipe that is going to keep the economic crisis we are going through. Brussels cannot fill in the economic gap and the decrease in exports from Greece or other countries. What we have to do is to look for a basis for a new dialogue of non-confrontation between the EU and Russia. This should be strategic partners working with consolidation for peace and normal economic life on both sides.
RT:Was it possible for Greece to refuse to impose sanctions during the vote among the EU nations?
KI: Yes, even though we have lost much of our sovereignty, because of these memorandum policies which has created a very deep problem for Greece in its economic ties with the West, Western banks and the IMF. Greece has had a long history of traditional good ties with Russia and we should continue on that road.
The statements, views and opinions expressed in this column are solely those of the author and do not necessarily represent those of RT.