'If anybody is more guilty of Gaza conflict than the Israelis, it is the Americans'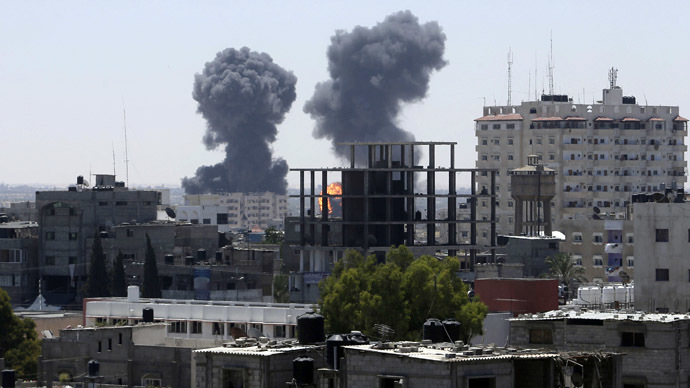 Israel gets signals from the US that it can do whatever it wants, so Tel-Aviv keeps refurbishing its weapons so that it could kill more Gazans, independent researcher and writer Soraya Sepahpour-Ulrich told RT.
RT:What are the chances that the ceasefire will hold?
Soraya Sepahpour-Ulrich: It seems that we are having incremental ceasefires for an incremental genocide. One has to understand the thinking that is behind all this as much as one does regret a single death; I do not care on which side. It is against the Zionist ideology to have a truce as Yitzhak Shamir said in 1997. So to think that they will give up the notion of taking over the whole of the land which they consider the Greater Israel - it is just not going to happen. What happens is we keep having these little ceasefires and then again the killings start anew. It also gives room to Israel to breath because international public opinion has turned against them, it now gives a kind of sense of credibility that they are really going to step back and allow you to take away the dead while they still continue to do destroy the tunnels which are the life saver for the Gazans, and at the same time come back and bomb what is left of you. It is really a travesty of justice and it is in violation of every human rights law and international law. I am just amazed at the UN for not calling it as it is which is genocide, if you look at the convention for prevention of genocide and punishment, and specifically in the Article 2. Everything that is happening in Gaza indicates it is genocide, and Mr. Ban Ki Moon's predecessor Kofi Annan in 2004 addressed the UN Commission of Human Rights and he said part of his biggest regrets was that he did not stop the Rwanda genocide and the warning signs were there.
RT:The Israelis and Palestinians are set to hold negotiations in Egypt. Washington is also sending a delegation to Cairo. Do you think we can expect the U.S. to increase pressure on its ally?
SS: Frankly, I don't think the US will ever increase pressure on Israel, but I have to point out that Egypt is not an honest broker and it is the last place you would want to have these negotiations in. If I were a Palestinian I would object to it. You have to understand that General Al-Sisi was held as a hero to all Jews. Do you think he will be an honest broker, especially since about three-four months ago the Israelis and the Egyptians signed an agreement whereby the gas has been stolen from the Palestinians, Israel was sending it through Egypt to a liquification plant and Egypt will benefit from this, and gas will be exported all over the world including Europe. To think for a moment that there is any good that will come out of the Egyptians brokering the so-called truce is being very naïve. I think that either Hamas is being played or maybe they too are buying time. Again, all other truces will not go anywhere unless any political solution is found and that political solution will only happen if the blockade is lifted, if the Gazans and Palestinians are allowed to live in peace. They are the ones who have been occupied and we cannot lose trace of this fact - they are leaving under occupation.
RT:As one of the conditions to a permanent truce, Hamas demands that Israel lift the blockade of Gaza. Israel calls this a non-starter. What solution do you see here?
SS: There is not a solution. There is no real solution until an international community, not US allies, but the global community, makes demands on Israel. And they are doing that, they are speaking out. But to think that the blockade will not be lifted – this is a crime. I do not particularly like Hamas but I do stand with them firmly on this.
RT:Does the responsibility for the situation fully lie on Israel?
SS: The day the ground invasion of Gaza started was the day that the Malaysian plane was shot down in eastern Ukraine. I think as analyst we need to sit and connect all these links. And in fact Russians in January offered to develop the gas fields for Gaza. At the time of the 2009 assault on Gaza the British offered to develop the gas for the Gazans and the Israelis said "we will never buy gas from them." They attacked and took over everything again. So this is not more about land, about water, about power and it will not go anywhere until Israel has stopped. In 1947 Israel killed a representative of the UN Bernadotte, and it told the world that it wouldn't have limits. In 1967 it killed American crew members of the USS Liberty, the American government covered it up. This also signals to Israel that "you can do whatever you want and we'll have you back." And they do. They are refurbishing their weapons so that they could kill more Gazans. If anybody here is more guilty than the Israelis, it is the Americans. It is America that is responsible for what is happening 100 percent. We cannot just point finger at Israel. Nothing will be stopped until America stops its support.
RT:What should the US do then?
SS: If America wanted the negotiations to go anywhere, instead of condemning what's happening which is massacring children America would say "I will stop all aid to you until you can to the table, until you negotiate." America is not saying that, it is sending more weapons.
Egypt is not honest in all this, Egypt has a lot to gain aligning itself with Israel, which it has done. Saudi Arabia is supporting this regime in Egypt that is not on the side of the Palestinians, they are in fact siding with Israel. You can go and negotiate with people if there is something to be negotiated, if you trust in their honesty and good will of the persons that are at the negotiating table. Egypt is not, United States is not. The US government is beholden to Israel.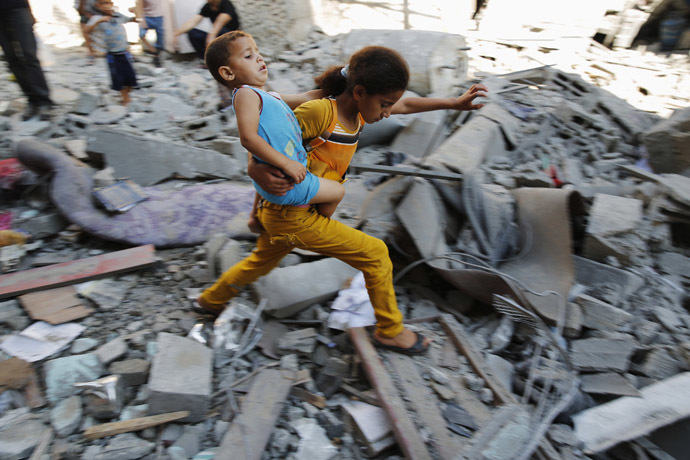 You look around and it is just shocking that in America a Jewish woman was arrested for reading out the names of children that were killed in Gaza by Israel. This is the country that is promoting itself as promoting democracy and human rights. The fault lies here and America needs to change its course in order for Israel to change course. Otherwise we will be having this conversation 3 weeks from now, 3 months from now, 3 years from now. It's just a slow death for the Palestinians. We have this truce in place, we have these peace talks and then there is need for more settlements and then something comes out and it is just all over again.
The world has become so desensitized because it's not new. They are so used to this going on, that they disregard it and look the other way at the Israeli-Palestinian conflict, Hamas as a terrorist, but they really have lost interest in wanting to save human lives and this blows in the face of all international laws. If there are no laws in this world that we need to abide by at the international arena, then why should we have laws at home. If there is somebody coming and killing me, well... there are no laws.
I think this matter is far more serious than we give it credit. It is a news item, but it's [also] a humanitarian item, it's all about humanity and it really needs to be. It will either be resolved with half of the global community, people that are speaking out and Israel will be stopped or else they will not be stopping it, it will be too late.
The statements, views and opinions expressed in this column are solely those of the author and do not necessarily represent those of RT.
The statements, views and opinions expressed in this column are solely those of the author and do not necessarily represent those of RT.
You can share this story on social media: