'UK media show weakness for sensationalism & propaganda in wake of MH17 tragedy'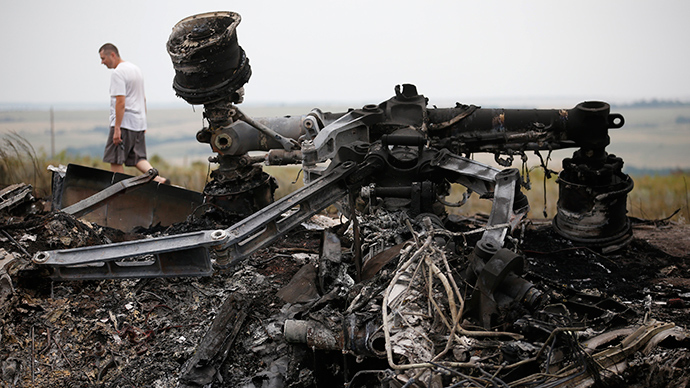 There are no words in the English lexicon which can properly summarize the horrors of events yesterday in Eastern Ukraine. Like all right-thinking people around the world I am aghast and I currently have a nauseating tightness in my stomach as I pen this.
Since Malaysian Airlines flight MH17 from Amsterdam to Kuala Lumpur came down in fragments on the blood-soaked soil of Ukraine, media, both old and new, has been caught in a torrent of claim and counter-claim on an unprecedented scale. Retired journalists with decades of experience say they have never seen anything quite like the propaganda and misinformation which has spewed in the last 24 hours.
Let's stick to the facts. The most pertinent one is that 298 people should have landed in Kuala Lumpur by now but instead they are dead and their bodies are scattered around Ukraine's war spoiled soil. We do not know why the accident happened and we won't know until an investigation is carried out – unless somebody admits shooting it down in the interim and their claims can be verified.
Until either of those scenarios comes to pass, anybody offering a view on what occurred is voicing an opinion, not a fact. I have my own theory and anybody with a passing interest in the Ukrainian conflict or aviation will have theirs and that's exactly what they are – opinions, not facts.
Russian media was full of reports of differing scenarios yesterday and Western correspondents decried many of them as propaganda. Journalists from the UK and the USA (and other NATO-aligned countries) regularly accuse the Russian press of being a propaganda tool for the Kremlin and they mean more or less all outlets of expression when they say that.
In this world they have concocted, their own nations' reportage is balanced, fair and honest and what comes from Moscow is Goebbels-like 'disinformation.' It is true that Russian media often gets things wrong and when they do they should be subject to rigorous examination. However, it's also the case that Western news-outlets frequently get things spectacularly askew and the early indications are that many have done so in the immediate aftermath of the MH17 disaster.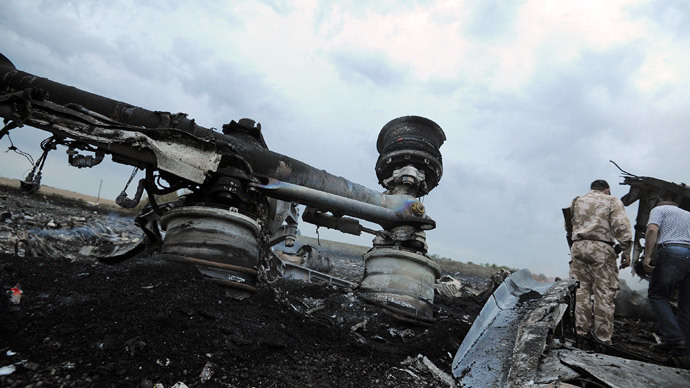 Friday morning's UK newspapers are a case in point but, of course, not all of them. At the time of their publication there was no absolute proof that the Boeing was shot down but, to be fair, the general assumption is that it was.
The Independent leads with a poignant front page "Shot Out Of The Sky" but the general tone of their coverage captures a suitable mood. The sister 'I' paper goes with "Horror at 33,000 feet." The Indy's competitor in the low sales, but outwardly serious, market, The Guardian, says: "Murder in the sky: missile destroys jet and kills 295 (sic)." Again, they assume a missile was involved but their assumptions are relatively tame. I might also point out that the three Guardian journalists working in Ukraine, Harriet Salem, Alec Luhn and Shaun Walker are among the finest and most knowledgeable Western correspondents in the region. It's a shame that the paper only sells 207,000 copies daily (The Independent tallies a mere 66,000, but its counterpart 'I' racks up a credible 298,000) because by UK standards they are the cream of the crop on the post-Soviet space.
The once-venerable Times of London, generally regarded as Britain's 'newspaper of record' serves up "Blown out of the Sky' which is again quite poignant and not over the top.
Meanwhile, the best-selling UK 'quality paper' The Daily Telegraph (544,000) settles for "Airliner blown out of the sky" and keeps its coverage parochial by focusing on the fact that "Eight Britons (are) feared dead in 'Terror' Attack."
The problem is that most British people don't read 'quality' newspapers and that the tabloids outsell them by a huge margin. The Sun, the top seller, flogs 2.2 million copies daily. This is massively down from their 2011 figure of 3 million but that is due to a number of factors in recent years. The phone-hacking scandal which disgraced its parent-company News International and also led to the closure of sister title, The News of the World, caused huge damage in particular. There are other reasons such as the general decline in print sales and a shift to online, but even The Sun's stoutest defenders would admit that it was the phone-hacking (and resultant trials) which 'Done For The Sun' – as they might, or might not, say themselves.
This is the best selling newspaper in the UK. The UK media regularly accuses Russian media of propaganda. pic.twitter.com/hrcbWcspfv

— Bryan MacDonald (@27KHV) July 17, 2014
The other leading tabloid The Daily Mirror weighs in with 992,000 sales and the Daily Mail can claim 1.78 million. The Mail is a difficult paper to describe, tabloid in pagination but often carrying articles which would fit a broadsheet. Also, some of the finest writers in the UK press call it their home. I have to admit a potential conflict of interest here because I worked for the Mail and mostly admire it to this day. Its editor, Paul Dacre, is probably the most brilliant of his generation and the online chief, Martin Clarke, is a genius who I had the pleasure of writing for. Not to mention that The Irish Daily Mail's former editor, Paul Drury, is the best operator I ever encountered in print media.
So I am biased about The Daily Mail and I like far more about it than I abhor. But I cannot defend their headline of Friday morning: "(US says if Putin is involved) There'll Be Hell To Pay." The US did not say this.
Senator John McCain, a failed presidential candidate with a humungous chip on his shoulder about President Putin and Russia in general, said it. Senator McCain does not speak for America – if Americans wanted him to speak for them, they would have elected him President when they had the chance, but they didn't.
The man who does speak for the US and who defeated McCain in that election, President Obama, actually said that the incident "looks like it may be a terrible tragedy." However, that would not have made such a suitable piece of propaganda... "The US says "(it) Looks Like It May Be A Terrible Tragedy."
The Daily Mirror is more careful, "Slaughter at 33,000ft" but it does repeat, in a sub-heading, that "Putin (is) warned of 'hell to pay' if Russia to blame" without ascribing it to a source.
Now, to the Sun, and in the propaganda wars, this takes some beating: "Putin's Missile." Let's just assume for a moment that it was a missile which struck flight MH17 and led to the appalling carnage. In what parallel universe could anyone with an ounce of sanity describe it as 'Putin's Missile.'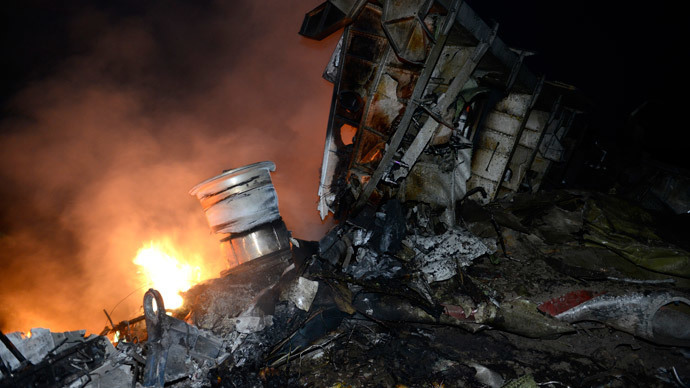 Did the Russian President fire it himself? Did he invent it? Did he personally order it to be fired at an innocent passenger aircraft? I think the first and third questions are rather easily answered with a resounding 'no' or 'nyet' as he would say himself.
As for the second, the missile allegedly used to down the jet was a Buk. This was introduced in 1979 by the Soviet Union and development began in 1972 when Vladimir Putin was 20-years-old and a law student at Leningrad State University. Now, many people admire President Putin's abilities but even his most voracious supporter wouldn't credit him with the ability to design complex weaponry at such a tender age.
Let's be clear here. The Sun's front page is a scandalous propaganda attack, designed to ferment in the minds of the British working-class, its target market, the idea that Putin is a tyrant and an enemy of the UK state and the Western world in general. It is comic book like in its simplification of a terrible tragedy and is, frankly, a disgrace.
If an Ulster Loyalist terrorist organization planted a bomb in Northern Ireland (UK sovereign territory, Ukraine is not part of Russia) which killed numerous Irish people and a Russian tabloid ran the headline 'Cameron's Bomb' the UK media would be gagging for air after it was finished venting its anger – and it would be correct to do so. Such a headline would not be accurate, one would hope, and would be described as pure anti-British propaganda by the UK press and broadcast outlets.
What the Sun published on Friday was unadulterated anti-Russian propaganda. There is no other way to describe it. What The Daily Mail did was sensationalize a story to get a 'better' front-page but The Sun deliberately decided to 'have a pop' at Russia and its President, who is the public face of the Russian nation.
Of course, The Sun has a track record of outrageous and offensive headlines. It was a formula that worked for them in a different age, 20 years ago, when they sold close to 4.9million copies daily as opposed to their current tally of just over 2.2million - but it obviously doesn't cut the mustard anymore as the British public become increasingly tired of their jaded format.
Probably the most famous error in the paper's history was back in 1989 shortly after the Hillsborough stadium disaster in which 96 football supporters died. Under a front page headline "The Truth," the tabloid alleged that some fans had picked the pockets of the dead, that others urinated on emergency service personnel as they tried to save the injured and that others assaulted a police constable whilst he was administering the kiss of life to a patient. The paper later admitted it was the "most terrible blunder in its history" and to this day many newsagents in the city of Liverpool (where most of the victims came from) refuse to stock it.
In 1982 during the Falklands' War with Argentina, The Sun was promoting the use of missiles to kill enemy targets. With the headline "Stick This Up Your Junta: A Sun missile for Galtieri's gauchos", it published a photograph of a missile, with a Sun logo printed on its side with the caption "Here It Comes, Senors..."
The paper claimed that it was 'sponsoring' the missile by contributing to the eventual victory party on HMS Invincible when the war ended. Three days later, The Sun celebrated the torpedoing of the Argentine warship the General Belgrano with the headline "GOTCHA". 323 Argentine's died on the Belgrano.
The following year, 1983, the paper greeted the arrival of the AIDS virus with the headline: "US Gay Blood Plague Kills Three in Britain".
I could continue for days with examples of The Sun's xenophobic and outrageous viewpoints which were once hallmarks of its huge commercial success. It still remains Britain's best-selling paper but that appears to have more to do with habit and there is little doubt that its best years have long since passed.
All news outlets have an agenda. RT is funded by the Russian state and presents a Russian view of events. BBC is, likewise, financed by the UK state (via a tax) and offers a British window on the world. There are countless examples worldwide of state-owned television. Newspapers are generally influenced by their proprietors, The Times is not going to have a go at Rupert Murdoch and The Washington Post won't be criticizing Jeff Bezos any time soon.
However, the UK media is fond of describing RT as a 'Kremlin propaganda tool' and does so with varying degrees of menace and indignation. As Friday's newspaper headlines show, if they are looking for propaganda, they need only look closer to home.
The statements, views and opinions expressed in this column are solely those of the author and do not necessarily represent those of RT.
The statements, views and opinions expressed in this column are solely those of the author and do not necessarily represent those of RT.
You can share this story on social media: