Events in E. Ukraine 'beginning of ethnic cleansing campaign'
Any future peace talks between Kiev and the self-proclaimed eastern republics will be about their surrender, Daniel McAdams, the Executive Director of the Ron Paul Institute, told RT, adding that Ukrainian authorities are carrying out ethnic cleansing.
RT:Do you agree with President Poroshenko that civilians are not being targeted and the army is liberating the east of the country?
Daniel McAdams: Well unless it is the most elaborate deception campaign in the history of propaganda, everything that I've seen has shown that the jets and the military from Kiev are decimating villages. And I think it should not be a surprise because the new president has already said, "We will attack, and liberate our land," but the members of his administration have referred to the people in the east as sub-humans, insects and other things. So you first dehumanize the population and then you begin an ethnic campaign. And I think that is what you are seeing in the east now is the beginning of an ethnic cleansing campaign. We have already seen that 100,000-plus have fled to Russia. So this is the administration that has used deception and lies in the past and I think we're seeing it again.
RT:But if you say it's an ethnic cleansing campaign, then to what end? I mean, even though these people are living in the east of Ukraine and their tendencies and their sympathies may lie with Russia, they are still Ukrainian citizens.
DM: That is correct but they also are disconnected from Kiev. It is very ironic, today in the US we're celebrating the 238th anniversary of our Independence Day where we broke away from an unelected tyrannical government far away. Yet, the same US government is now doing its very best to suppress the people in east Ukraine who want the very same thing – just the ability to secede from a government that they feel is oppressive and does not represent their views. So it is actually a sad irony sitting here in the US celebrating Independence Day.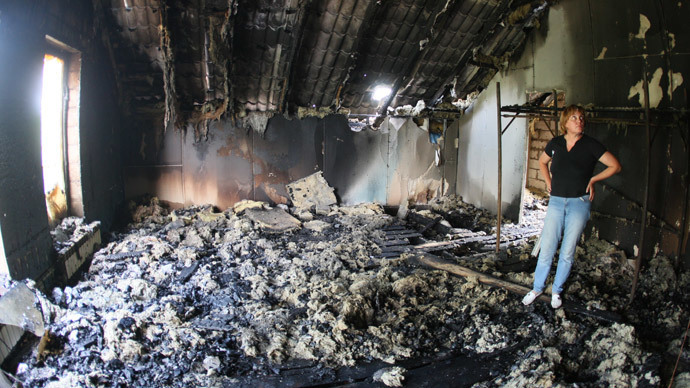 RT: President Poroshenko is proposing a new time and place for the negotiations with these republics. How committed do you think he is to those talks?
DM: Well, he is committed but his position has already been clear: you have to surrender or be killed. So, I think the talks, unless I'm mistaken and it is very possible, I hope I am mistaken, but the talks will nearly be about the conditions of their surrender. So those are not really talks in the true sense of the word. So it is hard to be optimistic about it.
RT:So what kind of result do you think will come from them?
DM: I do not think much will come from them, again unless I'm terribly mistaken. If you look at this post-coup government in Kiev, this really is an Orange Revolution 2.0. Look down at the persons, to the people who have been appointed – they are all Yushchenko's retreads, they are all cronies of Poroshenko, billionaire oligarchs. So this is nothing new. If this was a revolution to get rid of corruption and to start afresh, it is a remarkable way of doing it. So I think I do not expect anything different at all, except that this is way more violent than the Orange Revolution 1.0.
The statements, views and opinions expressed in this column are solely those of the author and do not necessarily represent those of RT.
The statements, views and opinions expressed in this column are solely those of the author and do not necessarily represent those of RT.
You can share this story on social media: