'US aims to thwart Chinese Silk Road project proclaiming its Asia pivot'
A Chinese idea of creating two New Silk Roads could be a big boom for a lot of people who live along the Silk Road route, and obviously all the countries at both ends of it, China expert Ann Lee told RT.
RT:What do you think is behind China's move to establish a global financial institution to rival the World Bank?
Ann Lee: China has announced that they want to create two New Silk Roads actually. One that connects Central China all the way to Europe [via] high-speed railway and other means of transportation, and then they would also like to create connections all the way down to Malaysia and possibly India. So this is a lot of infrastructure investment and China has been somewhat frustrated with the World Bank and the Asian Development Bank, in terms of the funds coming out from these entities to support infrastructure projects that will connect these regions. I think China basically decided that if they want anything done here they will just have to fund it themselves and bring along a bunch of partners. That is the prime motivation, which is largely to expand trade and economic influence.
RT:Do you think this planned new institution can really compete with well-established giants like the World Bank, or rival the US-backed Asian Development Bank?
AL: We have seen China establish world-class institutions that are challenging many things in the developed world, such as companies like OneWay and Telecom. I think that this is just a further extension of what China has been doing. China has come from [being] a backwater country 30 years ago and now is the world's second-largest economy, and China is basically showing the world that if there is a will, there is a way. Certainly there is a political will there to continue foreign direct investment outside of China. In order to continue their economic growth domestically, they need further exports, and this could [come from] expanding trade relationships with various commodity countries in Central Asia, and in the Middle East. So this is basically part of that strategic plan.
RT:A number of countries, including several wealthy states in the Middle East have already showed interest in the project. Do you think the project will make Europe and Washington nervous?
AL: I do not think that it will make Western Europe that nervous. China actually has had many conversations with European nations about various trade issues, and I'm sure this has come up with them; they are actually quite open to it. I would say the biggest country that has been resisting this is the US. China had actually tried to appeal for a larger share in IMF voting rights and would like to have a seat on the executive board, and the European nations have basically agreed to China's request. The only one that objected was the US. So I do not think that China is going to come up against a lot of friction with the European nations, especially if they intend to have the Silk Road end there. Obviously they already had these discussions and I am sure the European nations agreed, otherwise China would not have announced them.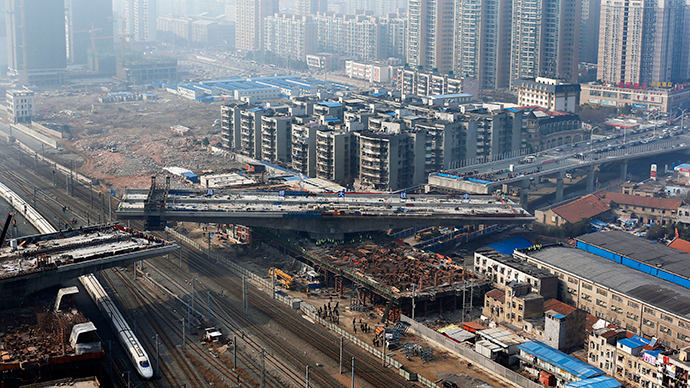 RT:Do you think Washington might try to hamper the initiative?
AL: There is no legal basis to do that, but Washington has already tried to hamper China. One of the Silk Roads that I mentioned is basically along the ocean going down to Malaysia and to South-East Asia and possibly India, and China wanted [their] navy to protect this new Silk Road. But that was thwarted by the US when the US decided to do the Asia pivot to thwart China's ability to control the waters to protect this new infrastructure development. And this is truly interesting because the US, up until recently, had agreed that those waters belong to China. I looked into a 1972 version of the Encyclopedia Britannica and in that Encyclopedia, which is owned by a US company, it is said that these were China's territories back then. And now the US is taking a completely different stance on it. So I would say that this is part of Washington's strategies to try to thwart China from realizing this goal.
RT:What impact could this Asian Infrastructure Investment Bank have on the global economy?
AL: If China is able to succeed in doing this, certainly this will pour hundreds of billions dollars of loans into developing infrastructure, along with joining the Eurasian countries and this could certainly create hundreds of billions, perhaps even trillions of dollars in increased economic growth for the world, given that a lot of the countries along this route have not been necessarily participating in a lot of the growth recently, and that would include countries like Afghanistan, Iran and other Central Asian countries and Middle Eastern countries. So this could be a big boom for a lot of people who live along this Silk Road route and obviously all the countries [at] both ends of it.
The land-based New Silk Road will start in central China and run southwest from Central Asia to northern Iran before turning west through Iraq, Syria, and Turkey toward Europe. There the Silk Road route goes through Bulgaria, Romania, the Czech Republic, and Germany, where it swings north to Rotterdam in the Netherlands and then south to Italy where it meets the Maritime Silk Road.

The Maritime Silk Road will begin in Quanzhou in Fujian province, go through a number of cities before heading south to the Malacca Strait. From Kuala Lumpur, it heads to India and Kenya, then goes north around the Horn of Africa and moves through the Red Sea into the Mediterranean, with a stop in Athens before meeting the land-based Silk Road in Venice. This Xinhua map does not include a stop in Sri Lanka, though they are supposed to be part of the Maritime Silk Road.
The statements, views and opinions expressed in this column are solely those of the author and do not necessarily represent those of RT.
The statements, views and opinions expressed in this column are solely those of the author and do not necessarily represent those of RT.
You can share this story on social media: