​Tiananmen Square June 4, 1989: What really happened?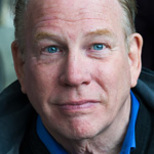 William Engdahl is an award-winning geopolitical analyst and strategic risk consultant whose internationally best-selling books have been translated into thirteen foreign languages. He has lectured as Visiting Professor at Beijing University of Chemical Technology and delivers talks and private seminars around the world on subjects of current importance from economics to oil geopolitics to agribusiness. A widely discussed analyst of current political and economic developments, his provocative articles and analyses have appeared in numerous newspapers and magazines and well-known international websites. He is a Research Associate of the Centre for Research on Globalization in Montreal and member of the editorial board of Eurasia magazine. Based in Frankfurt, Germany he may be reached via his website www.williamengdahl.com
Published time: 5 Jun, 2014 13:40
Edited time: 5 Jun, 2014 14:56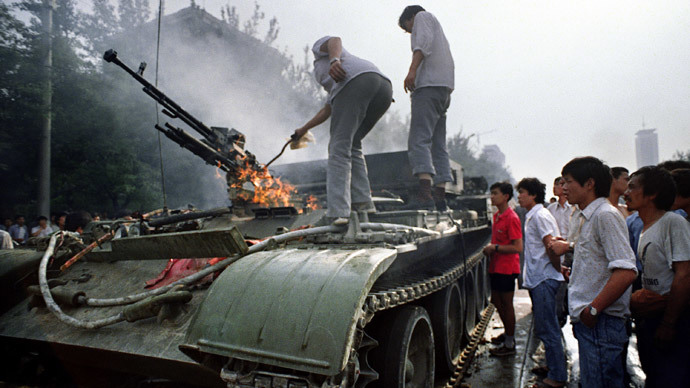 This week marks twenty five years since the world was told of a brutal massacre by the Chinese Peoples' Liberation Army of "thousands" of peacefully protesting pro-democracy students in Beijing's Tiananmen Square.
The response from the West then was to demonize the Chinese government and to impose economic and military sanctions which in many cases exist to the present day. A recent release of a diplomatic telegram from then-US Ambassador to China, James E. Lilley, to Washington sheds new light on what really happened that June 4.
According to the mainstream Western version of events, thousands of Chinese university students began their sit-in protest demanding democracy and transparency from the Communist government in April and into May 1989 in the huge Tiananmen Square, directly across from the historic Forbidden City edifice in central Beijing. They defiantly faced off against the Chinese Communist Party (CCP) and the People's Liberation Army. On May 20, 1989, the CCP imposed martial law and ordered truckloads of soldiers to Beijing to take back the square from protesters. The Western account has it that then, on June 3 into June 4, PLA soldiers opened fire and killed "up to 1000 student protesters."
Sensational eyewitness account
WikiLeaks, the website that received hundreds of thousands of pages of intercepted diplomatic correspondence from the US State Department, has released a classified diplomatic cable from then-Beijing Ambassador James Lilley to Washington dated July 12, 1989 more than four weeks after the events. In his report, Lilley writes the following shocking version of events:
OF JUNE 3-4 EVENTS ON TIANANMEN SQUARE
1. CONFIDENTIAL - ENTIRE TEXT.
2. SUMMARY- DURING A RECENT MEETING, A LATIN AMERICAN DIPLOMAT AND HIS WIFE PROVIDED POLOFF AN ACCOUNT OF THEIR MOVEMENTS ON JUNE 3-4 AND THEIR EYEWITNESS ACCOUNT OF EVENTS AT TIANANMEN SQUARE. ALTHOUGH THEIR ACCOUNT GENERALLY FOLLOWS THOSE PREVIOUSLY REPORTED, THEIR UNIQUE EXPERIENCES PROVIDE ADDITIONAL INSIGHT AND CORROBORATION OF EVENTS IN THE SQUARE. THEY WERE ABLE TO ENTER AND LEAVE THE SQUARE SEVERAL TIMES AND WERE NOT HARASSED BY TROOPS. REMAINING WITH STUDENTS BY THE MONUMENT TO THE PEOPLE'S HEROES UNTIL THE FINAL WITHDRAWAL, THE DIPLOMAT SAID THERE WERE NO MASS SHOOTINGS OF STUDENTS IN THE SQUARE OR AT THE MONUMENT. END SUMMARY. (Emphasis mine - WE)
Lilley in his memo goes on to name the Latin American couple as Chilean Second Secretary Carlos Gallo and his wife. They had been dining near the square and went to observe events. As foreign diplomats, they managed to move in the crowd without difficulty. They said the PLA had evidently been ordered not to interfere with foreigners. They reported hearing shots and wounded students were brought to a Red Cross tent for care. Then the US Ambassador reported,
8. GALLO EVENTUALLY ENDED UP AT THE RED CROSS STATION, AGAIN HOPING THAT TROOPS WOULD NOT FIRE ON THE MEDICAL PERSONNEL THERE. HE WATCHED THE MILITARY ENTER THE SQUARE AND DID NOT OBSERVE ANY MASS FIRING OF WEAPONS INTO THE CROWDS, ALTHOUGH SPORADIC GUNFIRE WAS HEARD. HE SAID THAT MOST OF THE TROOPS WHICH ENTERED THE SQUARE WERE ACTUALLY ARMED ONLY WITH ANTI-RIOT GEAR--TRUNCHEONS AND WOODEN CLUBS… (Emphasis added - WE)
Then Gallo reports in a subsequent meeting with the US Embassy's political officer a most remarkable development which was entirely blocked out of sensational Western media. The student leaders and the PLA reached an agreement that the protestors would be allowed to leave peacefully if they disbanded their sit-in:
10. ALTHOUGH GUNFIRE COULD BE HEARD, GALLO SAID THAT APART FROM SOME BEATING OF STUDENTS, THERE WAS NO MASS FIRING INTO THE CROWD OF STUDENTS AT THE MONUMENT. WHEN POLOFF MENTIONED SOME REPORTEDLY EYEWITNESS ACCOUNTS OF MASSACRES AT THE MONUMENT WITH AUTOMATIC WEAPONS, GALLO SAID THAT THERE WAS NO SUCH SLAUGHTER. ONCE AGREEMENT WAS REACHED FOR THE STUDENTS TO WITHDRAW, LINKING HANDS TO FORM A COLUMN, THE STUDENTS LEFT THE SQUARE THROUGH THE SOUTHEAST CORNER. ESSENTIALLY EVERYONE, INCLUDING GALLO, LEFT. THE FEW THAT ATTEMPTED TO REMAIN BEHIND WERE BEATEN AND DRIVEN TO JOIN THE END OF THE DEPARTING PROCESSION. ONCE OUTSIDE THE SQUARE, THE STUDENTS HEADED WEST ON QIANMEN DAJIE WHILE GALLO HEADED EAST TO HIS CAR. (Emphasis mine - WE)
The report of a deal between student protestors and the military to end the protest peacefully and leave had been told to me by various young Chinese in personal accounts on recent visits to Beijing, but until this WikiLeaks release of the Lilley cable, it could never be confirmed. Now it seems clear that the entire story of "thousands" of dead students at Tiananmen Square, whose very name in the West is synonymous with brutal government suppression of democracy, was largely a fabrication. The protests were real, but not the horrendous stories of slaughter.
Indeed, as I have written elsewhere, there is rather strong circumstantial evidence that suggests that the CIA and US State Department played a key role in trying to goad on the student protestors at Tiananmen Square; much like the CIA did in Hungary in 1956, in order to provoke a government bloodbath of repression. Around the same time as Tiananmen protests in April-June 1989, the Chinese government banned a Chinese NGO of US operator George Soros, the Fund for the Reform and Opening of China, after interrogating its Chinese director in August 1989 and claiming that the Soros China fund had links to the CIA. The Soros Fund according to Chinese reports had been supported by ousted Communist Party chief Zhao Ziyang.
Significantly in addition to the Soros Fund, Gene Sharp of the Cambridge Massachusetts Albert Einstein Institution, whose handbooks on "non-violence as a method of warfare" have been the "how-to" textbook for every color revolution to date, was in Beijing days before the Tiananmen events. Then-US Ambassador Lilley himself was a career CIA officer who, like then-President George H.W. Bush, had been in the secretive Yale Skull & Bones society, and who was with Bush at the CIA. The circumstantial evidence points to an attempted US destabilization of China designed to coincide with the collapse of the Soviet Union in 1989, with Lilley the likely on-the-ground coordinator.
When the PLA failed to fill Beijing with the blood of "thousands" of student democracy martyrs, Washington could simply go with fabrication of a fantasy or virtual massacre and, because of its overwhelming control of mainstream media; most of the world could believe the Washington version.
The statements, views and opinions expressed in this column are solely those of the author and do not necessarily represent those of RT.