'UK still witnesses activities aimed at radicalizing youth'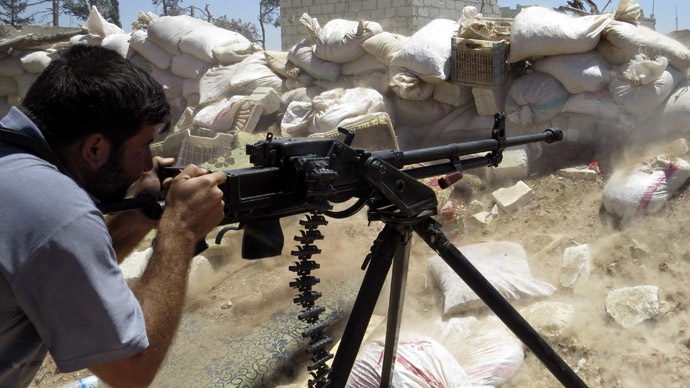 The spread of extreme ideas is an issue that the UK needs to tackle in terms of government policy, there should be an arrangement on how we can best support these people, Labour MP Khalid Mahmood told RT.
On May 20 Briton Mashudur Choudhury was convicted of terror offences after travelling to Syria to join jihadists fighting against Bashar Assad. He will be sentenced on 13 June. This is the first case linked to jihadists fighting in the Syrian conflict in Britain.
RT:So this is the first case of its kind but probably won't be the last. Just how serious a problem is this, where we see UK nationals fighting in Syria?
Khalid Mahmood: This is a very significant issue and a problem. I have been talking about this for the last two and half years. There were significant members of the British community, originally expatriates Syrians, then expatriate Kurdish people, who were going across and then they became a quite strong movement within the extreme element, within the British Muslim community who then started to go across. A lot of these people who are going across, on so-called charity functions and events and trying to support people with charity work, were actually going out and not coming back. One group that went out almost 18 months ago with 22 young men, ten of them came back and twelve of them stayed there. As I know, the full number haven't come back yet.
RT:His conviction is as a result of a tip-off from within the Muslim community... How significant is that?
KM: There has been a significant amount of doctrine through some of the extreme elements. Abu Hamza is being tried in America and will be sentenced. People like that in the 1980s-1990s, they got hold of some of these people in universities and colleges, and even some in prisons through getting them to become more and more extremist. And they still have these activities going on. In my constituency only last year there were two young men who go to the local university, within six months they went to a particular mosque and then another center where they were pushed to extremism. One of the boys left a message saying that he is going to join the Al-Nusra, and so this is continuing to happen, this extremist element continues to recruit people.
RT:We have been reporting for a long time on the flow of Europeans, including UK citizens, joining Syrian jihadist groups, but it seems authorities are starting to act only now. Why?
KM: That's very significant. More and more people are doing that. One of the people who went across, the mother spoke to the police and told them what was going on. More and more openly parents are wishing their children not to go over and would rather work and speak with the police. All we have to do is to an arrangement on how we can best support these people when their parents or members of family are saying "If you go across to Syria or anywhere elsewhere to take arms against people, then we need to deal with that".
RT:Do you think the authorities are actually doing enough to stop the stream of volunteers to join the fight in Syria?
KM: I think they are starting to do it now. I have been saying for two years before the things started that there was a significant amount of people, and then the Foreign Office didn't want to know about this. Partly because, I think, it is to do with the government. The government issue was a different stance on people going across. You can say "Well, if our government is saying that we are not happy with what is going on in Syria in terms of Assad regime" and therefore why don't we go over there and help those people? That is an issue we need to tackle in terms of government policy on this and they obviously didn't push this agenda because of their own policy being a particular position.
RT:Is it dangerous for the national security to bring back those who went to fight in Syria?
KM: Very much so. Once you had a person who has been involved in using live weapons, who has been involved in strategy. And some of these people killed people in all sorts of ways whether it has been through torture, beheadings, was just purely planting mines or bombs, and just generally shooting people. These people crossed that line and once that line is crossed it's very difficult to say whether they will stop. Just because they come back to the UK that doesn't mean that they will stop at that and not go further.
The statements, views and opinions expressed in this column are solely those of the author and do not necessarily represent those of RT.