'Ukraine may become the new Greece'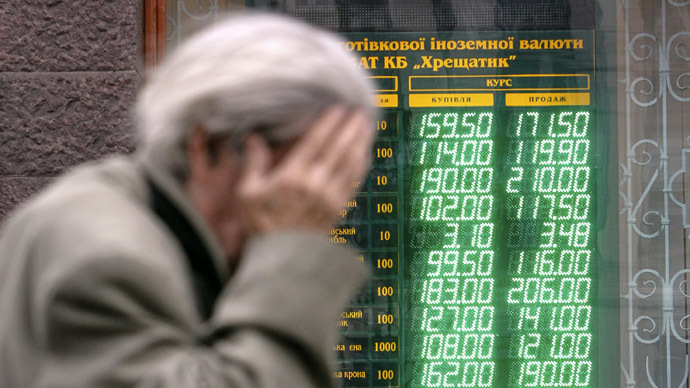 Ukraine is going to be caught in a debt trap because of the borrowed money it has to repay, but it can't repay the money effectively because of the imposed austerity measures, Chairman of the Bruges Group think tank, Robert Oulds, told RT.
RT:1.6 billion euros is a lot of money, but of course Ukraine needs much more. What might Ukraine spend it on?
Robert Oulds: It's going to be very damaging for Ukraine to accept this money from the EU because it comes with strings. There will have to be austerity measures in Ukraine as a result of this loan, which will ultimately need to be repaid. What we see is a very real possibility that Ukraine can become the new Greece. It is going to be caught in a debt trap where it will be lent money which it has to repay, but it can't repay the money effectively because it has to impose austerity measures. The EU and the IMF think this is a very good idea, but actually it limits economic growth which makes it even harder to deal with the debt and then the debt ultimately increases as does the unemployment, the economic growth declines and the recession in Ukraine will get ultimately worse.
RT:What are the chances that it'll start paying off its debts, such as the massive amount owed to Russia for gas?
RO: It needs to be repaid but of course Ukraine is not willing to do so. This money has been lent by Russia with fewer strings attached. Russia gave a discount on a price of their gas but of course this is now being rejected. The unelected government in Kiev has signed the Association agreement with the EU, which attempts to bring Ukraine fully in the EU sphere of influence, with Ukraine having to impose costly EU regulations, having to conform to the common foreign policy of the EU and integrate its own forces into the European Defense Agency. That is actually going to be very damaging and create the situation where the over-regulation of Ukrainian industry, which will have to comply with European standards, and of course there will be major divergence with Russia. Many businesses in eastern Ukraine have very close economic ties with Russia, most of Ukraine's industrial exports go to Russia, most of its trade goes to Russia and to the Commonwealth of Independent States. It is a really big mistake for the Kiev regime to be signing the association agreement, especially when it is such a controversial topic. The last poll on this from November 2013 actually showed that it was about 50/50.
RT:What would you say Ukraine needs to watch out for when it comes to buddying up with the EU?
RO: It does really need to watch out for being fully brought into the EU sphere of influence and having its own forces being regulated by the EU Defense Agency. And the danger is that the traditional ties with Russia will be broken as it is brought into the EU trade area. That is going to be a mistake for Ukraine. Most of its industrial exports go to Russia, re-aligning the whole Ukraine to the area which has declining economic growth, the EU, and of course costly regulations. A way to impose austerity measures is really going to be very difficult for Ukraine and the money that is going to be fed from the EU has strings attached; it needs to be repaid, deepening the recession Ukraine is currently in and harming economic growth in Ukraine.
The statements, views and opinions expressed in this column are solely those of the author and do not necessarily represent those of RT.