How Iraq elected new parliament: Witness account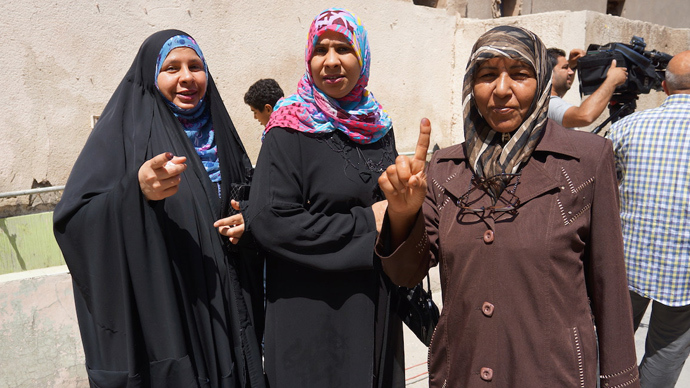 The streets of Baghdad are empty – no cars, no people. The military and the police are everywhere, in different uniforms, marching or in armored vehicles. The streets are cordoned off with a barbed wire.
Very few people are out and about. Parks and embankments have been deserted since Saturday. Shops, restaurants and all other public places are closed – starting from Friday, they are taking their days off. Kids are playing football on empty side streets.
Entering the country has been forbidden since Monday. All flights have been canceled and bus services have been suspended. Nobody can get in or out of Baghdad. This is the atmosphere in which the first Iraqi parliamentary elections are being since the withdrawal of US forces. Somehow people have forgotten that when the Americans were here, it was problematic to cross a street, let alone enter the country.
The mass media all over the world present Iraq as bankrupt and overwhelmed with terror. The reason for the terror is not the American invasion 11 years ago, but some inborn inability of different religious groups to exist in a civilized manner. Iraqi journalists are concerned about the fact that four US channels are reportedly planning to open offices in Baghdad after the elections. "They invited me to work for them. They are looking for people. The US mass media don't turn up for no reason. They always know if something is about to unfold somewhere," one journalist says.
Nobody approves of the measures taken by the government. While US forces were present in Iraq, people tried to avoid talking about the victims. When they left, there's hardly anyone who wouldn't criticize Iraq.
One senior police official, who preferred to stay anonymous, said: "America can't create good police in Iraq. Our police lack everything."
Even US weapons don't appeal to him.
"American weapons are bad, but what matters most is the problems they brought to Iraq," the police representative says. The weapons issue is a moot point, but the problems in Iraq are obvious.
"Terrorists are very smart. There are experienced people among them. They receive money from abroad," the officer says. The police carry out no surveillance, have no agents, pretend to be working, they adopted tools and manners from the Americans that were, in his opinion, counter-productive in Iraq; it all astounds him.
The problem with security in Iraq is bargaining, which is regarded as corruption or lack of discipline by people in the West.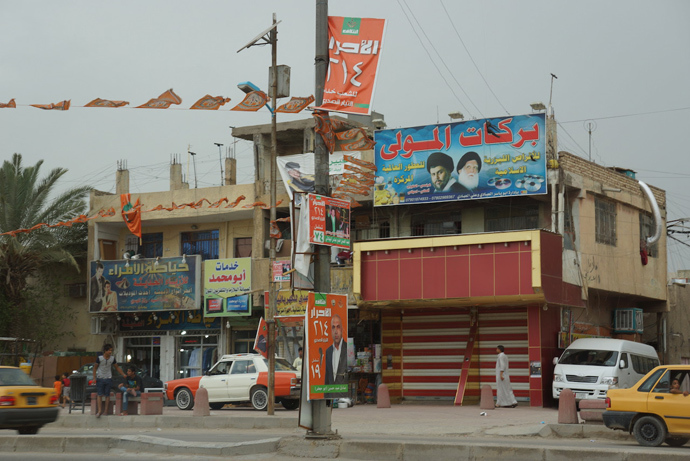 Vigilance means that every soldier checks your ID. My ID was needed when I visited a polling station and they wanted to write my name down on a list of dignitaries.
If a car has some kind of permit and it's on the front windshield, it will be stopped every 100 meters anyway. Sometimes soldiers ask for ID, sometimes drivers can salute the officers or joke and move on, but occasionally you need to stop and show your ID. The soldier then pull the barbed wire to one side and let you go.
Officers use special mirrors on sticks to inspect the bottom of the car and have equipment to detect explosives; usually they ask you to open the hood, but pay no attention to the trunk or those inside the car.

According to an official from the prime minister's office, "special services can't protect themselves, so how can they protect people from bombs?"
The closer to the polling station, the busier the street gets and the more police you see around. Their duties here are mainly to protect officials. Some of the police go to their APCs for a snack.
Most of the central voting districts of Baghdad saw the majority of the people vote for Maliki. When I ask a woman in a black hijab with children about her motive, she responds with a certain excitement: "Why not?"
Young girls declined to share their choice with me. A father of two children voted for a female candidate from al-Hakim, a religious Shia group, which has not sided with Maliki this time. Actually, there were many people who voted for al-Hakim.
Sheikh Аhmad Khafadgi cast his vote for the Saddikun group. "You need to change everything. It's not because I am against Maliki, but I am against the strategy of this government, or rather lack of any. If Maliki wins and reshapes his policies in our favor, we will support him," says the sheikh. He is convinced that cleric Muqtada Sadr's group is going to grab a solid share of votes. But he does not actually agree with the cleric's vision.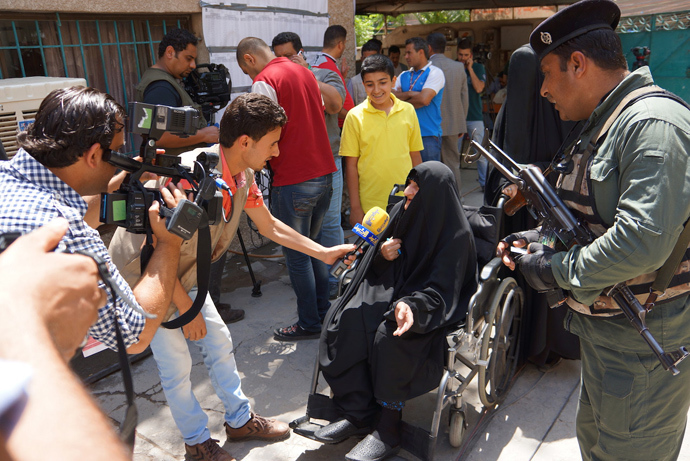 A woman of 30 came to invalidate her ballot paper. Her parents migrated to Yemen under Saddam Hussein and returned just recently. Her dream is never to get married, travel around the world and see a democratic Iraq one day.
Mohammad Rayeed is a street photographer. A Shia, he used to serve in the army under Saddam. It's the third time that he has voted for Maliki's State of Law."We support Maliki because he's a noble man and has a sense of proportion. Life is hard today: we used to have tourists, now there are none. True, Saddam was a dictator but we never had any terror attacks with him in power," he says. According to him, there's a wide conspiracy against Iraq that has been arranged from abroad.
Hussein Ali, a farm worker and a Shia, also votes for Maliki. During Saddam's tenure, he spent three months in jail and was tortured. "We worked in the field, and they wanted us to join the Baath party. We were angry and that's why they put me behind bars," he told me. He cannot become an MP himself. "You need to have a degree to be eligible. But it's not something that I worry about. We need people in power with a good educational background." According to him, each poster of the 9,000 candidates features their profession as a key part of their campaign. It's because people vote for their doctor, their engineer, or PhD holder that everyone in the tribe is proud of.
A US-leaning prosperous Iraqi points to a poster with pride: "She's from my tribe."
Many US journalists don't like al-Maliki because he doesn't smile or laugh or talk like Western people. They don't understand that Iraqis will never trust a person who laughs out loud or shows his teeth in a broad smile. It's not the way they do it here; a leader must be reserved. The journalists believe Maliki is following Saddam's style, but in a decent way.
The statements, views and opinions expressed in this column are solely those of the author and do not necessarily represent those of RT.
The statements, views and opinions expressed in this column are solely those of the author and do not necessarily represent those of RT.
You can share this story on social media: