'It would be best if intra-Afghan talks began while US still has significant military presence' – envoy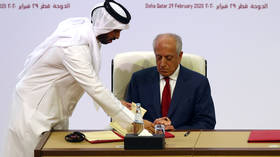 The United States has heard positive reports about the formation of an inclusive Afghan government, US Special Representative Zalmay Khalilzad said on Friday, adding that a new date for intra-Afghan peace talks is under discussion.
Speaking to reporters on a conference call, Khalilzad said it would be best if intra-Afghan talks began while there is still a significant US military presence in Afghanistan, Reuters reported.
The pace of prisoner releases and disagreements over the Afghan government's composition have both helped delay intra-Afghan talks, which were to begin on March 10 under a February 29 US-Taliban agreement for the withdrawal of US troops.
Two attacks in Afghanistan on Tuesday have raised questions about whether the US peace effort may collapse. One attack, on a Kabul hospital's maternity ward, killed 24 people, and another, at a funeral in eastern Afghanistan, killed 32. Khalilzad repeated the US assessment that an affiliate of the Islamic State (IS, formerly ISIS) militant group was responsible for both attacks.
You can share this story on social media: