Coronavirus has affected almost all Iranian provinces, President Rouhani says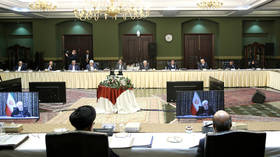 An outbreak of novel coronavirus has affected almost all of Iran's provinces, President Hassan Rouhani said on Wednesday. His statement was published on the official presidency website.
"This disease is a widespread disease," he said. "It has reached almost all our provinces and in one sense it's a global disease."
Deputy Health Minister Alireza Raisi was quoted on Tuesday as saying that 2,336 cases of COVID-19 had been confirmed in Iran.
On Wednesday, Health Ministry spokesman Kianush Jahanpur said that 92 people have died in Iran from the novel coronavirus, while 2,922 have been infected.
You can share this story on social media: