Japan's Abe heading to Middle East despite crisis in region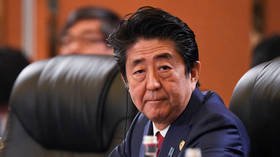 Japanese Prime Minister Shinzo Abe will visit the Middle East from Saturday, hoping to ease regional tensions that have soared after the US killing of a top Iranian general.
Japanese government spokesman Yoshihide Suga said on Friday that the January 11-15 trip to Saudi Arabia, the United Arab Emirates and Oman would go ahead.
Abe will also seek to explain Tokyo's decision to deploy a military vessel and two patrol planes to the region to "ensure safety of Japan-related vessels," AFP reports.
"To avoid further escalation of the tense situation in the Middle East, [Abe] will exchange opinions with the three countries," Suga said. "In each of the countries, we plan to ask for cooperation in ensuring a stable energy supply and the safety of vessels."
You can share this story on social media: