S. Sudan president Kiir, rebel leader Machar agree to form interim govt by November 12
Published time: 11 Sep, 2019 15:54
Edited time: 11 Sep, 2019 20:19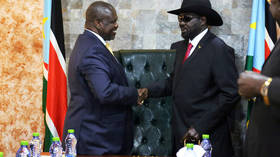 South Sudan's President Salva Kiir and rebel leader Riek Machar have agreed to form a transitional government by the middle of November, the country's information minister said on Wednesday.
The two men signed a pact a year ago to end a civil war that has killed hundreds of thousands of people, displaced a third of the population and wrecked the economy, Reuters said. Machar made a rare visit to the capital, Juba, this week to meet Kiir.
The parties "agreed to establish a transitional government by 12th November," the minister, Michael Makuei Lueth, told reporters.
Last year's accord, which called for a unity government, has been delayed because the government says it does not have enough money to fund disarmament and the social integration of all armed factions.