S. Korea celebrates freedom from Japanese rule, urges dialogue with Tokyo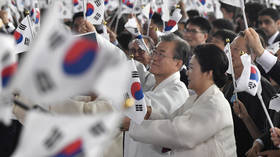 South Korea's president on Thursday urged Japan to contemplate its wartime past and offered to engage in talks to repair strained ties.
In a speech marking Korea's independence from Japanese rule, President Moon Jae-in toned down his recent harsh rhetoric towards Japan, Reuters said.
"We hope that Japan will play a leading role ... in facilitating peace and prosperity in East Asia while it contemplates a past that brought misfortune to its neighboring countries," Moon said, in a televised address. "If Japan chooses the path of dialogue and cooperation, we will gladly join hands."
Prime Minister Shinzo Abe, speaking at a ceremony honoring Japan's war dead on Thursday said his people had engraved the "lessons of history deep in our hearts," and pledged never to repeat the devastation of war.