Shooting during church service in Mississippi leaves 1 dead, 1 injured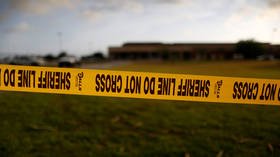 One person has been shot dead during an altercation at a Sunday morning service at the Church of Christ in Ripley, Mississippi.
Keith Bullock, who serves as constable for Tippah County, was attending the service when a man approached him and allegedly pulled a knife, forcing the official to draw his weapon and shoot the attacker, Tippahnews.com reports.
Patrick Sanders, 57, was pronounced dead on the spot, while Bullock was taken to hospital with minor injuries, police said. According to reports, Sanders was the preacher's son-in-law and both men belonged to the same congregation. Authorities have yet to release any details about the incident.
You can share this story on social media: