Ukrainian president's party wins parliament majority after all votes counted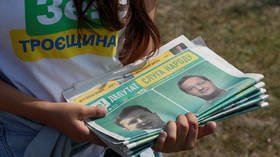 Ukrainian President Volodymyr Zelensky's Servant of People Party is winning the snap parliamentary election with 43.16 percent of votes, the Central Election Commission (CEC) said on Friday after all of the ballots were counted.
The 124 seats won by the president's party are added to the 130 that had been won by party members in the first-past-the-post part of the election. Half of the members of Ukraine's 450-seat, single-chamber legislature are elected from party lists, while the other half are elected from single-seat constituencies. With 254 MPs in its ranks, the Servant of People Party has a qualified majority – the first such power base in Ukraine's modern history.
Four other parties have overcome the five-percent threshold for party lists. Opposition Platform – For Life received 13.05 percent of votes, former PM Yulia Timoshenko's Batkivshchina won 8.18 percent, former president Petro Poroshenko's European Solidarity attained 8.10 percent, and singer Svyatoslav Vakarchuk's Golos (Voice) got 5.82 percent. Combined with single-member representatives, they will have 43, 26, 25 and 20 seats, respectively.
There are also 46 MPs who ran as independent candidates and 10 MPs whose parties failed to pass the threshold to get a larger faction in the parliament.
A snap parliamentary election was held in Ukraine on July 21. Voter turnout was 49.84 percent, the lowest ever in the history of Ukrainian parliamentary elections.
You can share this story on social media: