N. Ireland's DUP wants UK to leave EU with deal, won't join parliamentary moves to prevent Brexit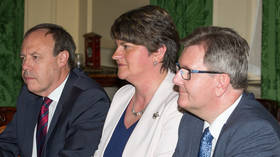 The Northern Irish party propping up Britain's minority government does not want the UK to leave the European Union without a deal, Reuters quoted one of its senior lawmakers as saying on Thursday.
"We're very clear that we want to leave the EU with a deal, that is our priority. We don't want to get into a no-deal scenario," Jeffrey Donaldson told RTE Radio.
The MP said that while the Democratic Unionist Party (DUP) wanted to leave with a deal, it would not join parliamentary efforts to prevent Brexit from happening and would not take a no-deal exit "off the table."
DUP leader Arlene Foster wrote in the Belfast Telegraph that the referendum decision had to be implemented in order for government to move on to resolving other problems.