World Food Program may suspend aid in Yemen's Houthi-held areas due to fighting, insecurity
Published time: 20 May, 2019 16:59
Edited time: 20 May, 2019 17:29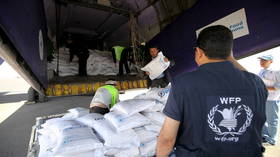 The World Food Program (WFP) is considering suspending aid delivery in the areas under the control of Yemen's Houthi group because of fighting, insecurity and interference it its work.
"Humanitarian workers in Yemen are being denied access to the hungry, aid convoys have been blocked, and local authorities have interfered with food distribution," the WFP said in Geneva on Monday. "This has to stop."
The highly unusual threat from the UN agency, which is feeding more than 10 million people across Yemen, reflected what it said were "obstacles that are being put in our way," Reuters said.
"Our greatest challenge does not come from the guns, that are yet to fall silent in this conflict - instead, it is the obstructive and uncooperative role of some of the Houthi leaders in areas under their control," according to WFP.