Russian forces in Syria shoot down terrorists' drones after attack on Hmeymim airbase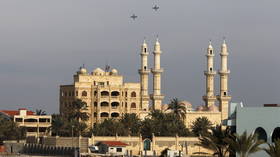 Russia's air defense forces shot down two unmanned aerial vehicles (UAVs) during a terrorist attack on the Hmeymim airbase in Syria, the Russian Defense Ministry said on Monday.
The drones approached the airbase from the northern and the northeastern directions, according to the military.
The Russian airbase's air defense forces destroyed all of the drones "at a considerable distance from the airbase," the statement said.
The military said six missiles were fired at the Hmeymim air base in the Latakia province and accused former Nusra Front militants of being behind the assault, RIA Novosti reported.