Merkel 'unavailable for any political office' after serving out 4th term as chancellor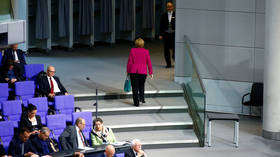 Angela Merkel said on Thursday she would be unavailable for any further political office after serving out her fourth term as Germany's chancellor, dismissing speculation that she could take a big EU job in Brussels.
"I am not available for any further political office, regardless of where it is – including in Europe," Merkel told a joint news conference with Dutch Prime Minister Mark Rutte in Berlin.
Speculation about Merkel's future swirled in the German capital after she told Thursday's edition of the Sueddeutsche newspaper she felt "even more duty-bound to join others in making sure that Europe has a future."
She made clear, however, that she saw it as her responsibility to promote Europe in her job as chancellor rather than in a future position, Reuters said.
You can share this story on social media: