After wrangling with Zelensky, Ukraine MPs vote to hold presidential inauguration on Monday
Published time: 16 May, 2019 10:16
Edited time: 16 May, 2019 10:49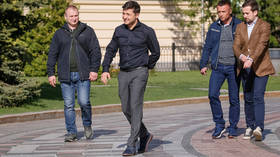 Ukraine's parliament has voted to hold the inauguration of newly elected president, comedian Volodymyr Zelensky, on Monday, after he wrangled with lawmakers over the date.
Zelensky, 41, said he had wanted to hold the inauguration on Sunday, a day of mourning for victims of Stalin-era repression in the former-Soviet country.
The president-elect repeatedly accused MPs of deliberately postponing the ceremony, but lawmakers voted on Thursday in favor of holding the inauguration at the beginning of next week, with 315 backing the date and two opposing, AFP said.
The comedy actor, whose only previous experience in politics was playing the president in a TV series, crushed the incumbent Petro Poroshenko in a runoff vote held on April 21, in which he took 73.2 percent of the vote.