Macron: It's not France's aim to block Huawei or launch technological war
Published time: 16 May, 2019 08:59
Edited time: 16 May, 2019 09:55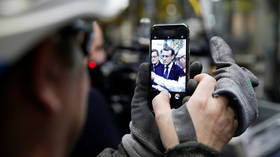 French President Emmanuel Macron said on Thursday that it is not France's aim to block Huawei, or to launch any form of technological war.
The statement comes a day after the US government moved to blacklist the Chinese telecoms giant.
"Our perspective is not to block Huawei or any company, it is to preserve our national security and European sovereignty," Reuters quoted Macron as saying at the Paris 'VivaTech' event.
"But I think launching now a technological war or a trade war… is not appropriate," the president added.