Yemen warring parties report renewed clashes in Hodeidah as UN envoy urges 'joint withdrawals'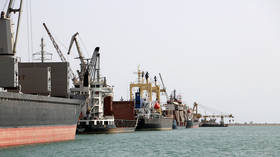 Houthi fighters and Saudi-backed pro-government forces battled in Yemen's port city of Hodeidah on Wednesday, breaching a ceasefire and potentially complicating a troop withdrawal agreement, Reuters reported.
The Houthis began withdrawal from Hodeidah and two other Red Sea ports on Saturday. The UN said on Tuesday the ports had been handed over to a coastguard and the pullout was going to plan.
However, both sides reported renewed clashes on Wednesday.
UN envoy for Yemen Martin Griffiths has urged the warring parties to maintain the momentum of the initial pullout of Houthi rebel forces from three port areas and move quickly to larger joint withdrawals, AP said.