France's Macron, New Zealand's Ardern host Paris summit against online extremism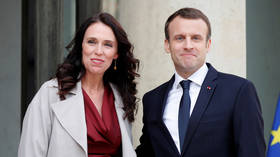 French President Emmanuel Macron and New Zealand premier Jacinda Ardern are hosting other world leaders and leading tech chiefs on Wednesday to launch a new initiative aimed at curbing extremism online.
The 'Christchurch call' initiative was pushed by Ardern after a self-described white supremacist gunned down 51 people in a massacre at two mosques in the New Zealand city in March, AFP said.
Participants will be asked to commit to pledges to eliminate terrorist and violent extremist content on social media and other online platforms.
The political meeting will run in parallel to an initiative launched by Macron called Tech for Good which will bring together 80 tech chiefs in Paris.