China calls French asylum for ex-Interpol chief's wife 'abuse of procedure'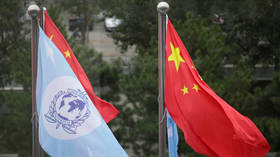 Beijing said on Wednesday France granting asylum to the wife of former Interpol chief Meng Hongwei would be an abuse of its own legal procedures.
"There is no so-called political persecution," said Chinese Foreign Ministry spokesman Geng Shuang, days after Grace Meng's lawyer in France said she had been granted asylum. "If Meng Hongwei's wife wanted to apply for political asylum in France, it would be an abuse of French legal procedures."
Grace Meng was given police protection in France after she alleged an abduction attempt at the start of the year and was granted asylum on May 2 along with the couple's two children, their lawyer Emmanuel Marsigny told AFP.
Meng Hongwei disappeared last September after leaving the French city of Lyon, where Interpol is based, for China. Chinese prosecutors said Meng had abused his positions as Marine Police chief and vice minister of public security to illegally obtain "extremely large" amounts of property.