Houthi redeployment from Yemen's ports carried out 'partly as agreed' – UN
Published time: 14 May, 2019 15:59
Edited time: 14 May, 2019 16:44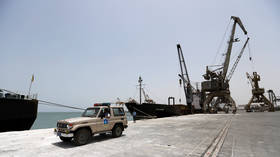 The UN said on Tuesday that a redeployment by Yemen's Houthi movement from three Red Sea ports had been carried out "partly as agreed" by warring parties under a peace deal.
The Houthis' unilateral withdrawal from the key ports, used for grain, oil, commerce and aid, began on Saturday and is seen as the most significant advance yet for efforts to end the four-year-old war and relieve hunger, Reuters said.
UN teams have been monitoring this redeployment which has been executed, "partly as agreed by the Yemeni parties in the concept of phase one," the head of a UN mission to monitor the deal said after visiting the ports of Saleef, Ras Isa and Hodeida.