Drones strike Saudi oil pumping stations near Riyadh as Houthis claim attack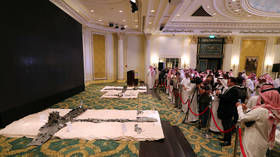 Saudi Arabia said explosive-laden drones had struck oil pumping stations in the Riyadh region on Tuesday "in an act of terrorism" – two days after Saudi oil tankers were sabotaged off the coast of the United Arab Emirates.
The attack on two oil pumping stations has not disrupted oil production or the export of crude and petroleum products, according to the energy minister of the world's largest oil exporter.
Houthi-run Masirah TV earlier on Tuesday cited a military official saying the Houthis had launched drone attacks on "vital Saudi installations." A Saudi-led military coalition has been fighting the Houthis in Yemen for four years.
Tuesday's attack and the operation against commercial vessels off the coast of the UAE on Sunday took place as the US and Iran exchanged angry words over sanctions and the US military presence in the region, Reuters said.
You can share this story on social media: