Landing of Superjet-100 was not declared emergency until fiery crash-landing – airport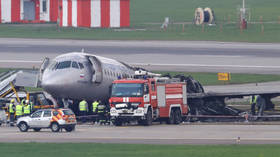 Moscow's Sheremetyevo airport has released a timeline of the Superjet-100 crash-landing and fire that killed 41 people on Sunday, which states that the crew sent a 'pan-pan' signal as radio and autopilot systems went down.
Unlike 'mayday,' the 'pan-pan' signal only alerts potential rescuers of an urgent problem and does not scramble them immediately. This suggests that the landing was not declared to be an emergency and was expected to proceed routinely.
The emergency was only declared when the plane caught fire during the rough landing, and only then were firefighters dispatched to the scene, arriving there in one minute, according to the airport.
Chaotic footage of the flaming aircraft sitting on the tarmac while survivors flee from it, with no emergency workers in sight, had earlier raised questions over the actions of the first responders. The fire was put out in just 16 minutes, but many victims could have perished in the toxic black smoke even before the water cannons were deployed, witness accounts suggest. Both black boxes of the jet have been processed and the investigation is ongoing.
You can share this story on social media: