'Reckless military solution' in Venezuela unwanted even by Washington – Lavrov after meeting Pompeo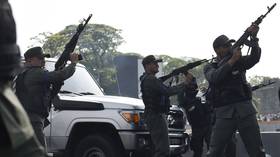 A military intervention of Venezuela would be "catastrophic" and it's understood not only in Europe and Latin America but also in Washington, Russian FM Sergey Lavrov said after a meeting with US Secretary of State Mike Pompeo.
"I don't see any supporters of a reckless military solution," in Venezuela either among Latin American countries, Europe or the US, Lavrov said speaking in Rovaniemi, Finland on Monday. A foreign military intervention of Venezuela would be "catastrophic," the foreign minister said, adding that "everybody understands this." He expressed hope that the use of force will be averted.
The Trump administration never made a secret of its desire to see socialist president Nicolas Maduro removed from power in oil-rich Venezuela. After opposition figure Juan Guaido declared himself interim president in January, the US was the first of 50 nations to recognize him as the legitimate Venezuelan leader. The Americans put the country under harsh economic sanctions and even threatened a so-called "humanitarian intervention" of Venezuela to bring forth the regime change.