Israel cuts offshore Gaza fishing limit after rocket launch by militants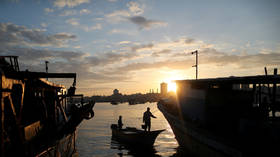 Israel reduced the offshore fishing limit it imposes for vessels operating out of Gaza on Tuesday. The move follows rocket fire from the territory by Palestinian militants.
A military spokeswoman said the rocket fell into the Mediterranean, a few kilometers off the Israeli coast. It was fired by Gaza's second largest militant group, Islamic Jihad, an ally of the territory's Islamist rulers Hamas, an army source told AFP.
The fishermen's union said that a number of fishing boats came under Israeli naval fire early on Tuesday after the military accused them of breaching the fishing boundaries. The statement did not report any casualties.
Gaza fishermen will now be able to operate no more than six nautical miles into the Mediterranean, down from up to 15 nautical miles, which Israel had allowed since April 1.