Pentagon deploys additional 320 troops to US-Mexico border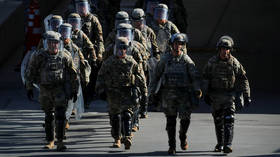 The Pentagon is reinforcing the US-Mexico border with hundreds of additional troops to help the Department of Homeland Security deal with the "humanitarian crisis at the border."
"Approximately 320 DoDO personnel will be required to support the DHS request for assistance through September 30, 2019, at an estimated cost of $7.4 million," the Pentagon said in a statement.
The extra servicemen will not conduct law enforcement operations during their deployment but will help Customs and Border Protection officers with their daily chores, including delivering migrants to detention centers as well as monitoring the welfare of those asylum seekers who are already in custody.
Currently, around 5,000 troops and National Guardsmen patrol the US southern border.
You can share this story on social media: