Humanitarian situation worsening in Libya – UN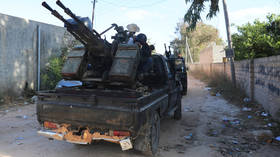 The fight for control of Libya's capital, which has already displaced tens of thousands of people, threatens to further worsen humanitarian conditions, according to a senior UN official.
"As long as the situation continues, even if it just stagnates and continues like this, we can expect to see a continuing deterioration," UN humanitarian coordinator for Libya Maria do Valle Ribeiro told AFP late Sunday.
Strongman Khalifa Haftar's self-styled Libyan National Army (LNA) launched an offensive against Tripoli, the seat of the internationally recognized Government of National Accord (GNA), on April 4.
"When we see the use of air power, the indiscriminate shelling of densely populated areas, it is very difficult to be optimistic," said do Valle Ribeiro, who is also the deputy UN envoy to Libya.