Pakistani prosecutor in Bhutto assassination case killed in drive-by shooting
Published time: 3 May, 2013 07:51
Edited time: 13 May, 2013 13:38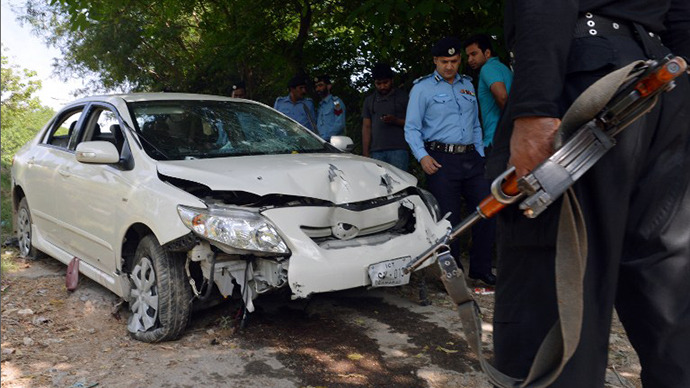 A Pakistani state murder prosecutor working on the assassination case of former PM Benazir Bhutto, has been shot dead in Islamabad. Anonymous gunmen intercepted Chaudhry Zulfiqar's car in a middle-class neighborhood, riddling it with bullets.
Zulfiqar had been driving to an anti-terrorism court to a hearing related to Bhutto's death when the attack took place. The gunmen approached in a taxi and opened fire, hitting him in the head, shoulder and chest, police officer Mohammed Ishaq told AP.
The injuries Zulfiqar sustained caused him to lose control of his vehicle, hitting a female passer-by and killing her in the process.
Zulfiqar's guard, Farman Ali, returned fire at the assailants, wounding one and sustaining injuries himself. Questions were subsequently raised as to why only one security guard was riding with Zulfiqar in the car.
He was pronounced dead on arrival at hospital, and his remains have been taken to the Pakistan Institute of Medical Sciences hospital in the city for further examination. A massive search is underway to track down the identities of the gunmen, who fled immediately following the incident.
Bhutto was murdered in December 2007, after speaking as leader at a Pakistan People's Party rally, when rounds of bullets were fired at her shortly before a suicide blast next to her vehicle. The attack took place two weeks before the 2008 Pakistani General Election, in which she was the leading opposition candidate.
Zulfiqar acted as a public prosecutor in the high-profile case, and has repeatedly confirmed high court rulings and the issuance of arrest warrants to the press.
Former military ruler Pervez Musharraf, currently under house arrest on the outskirts of Islamabad, stands accused of being complicit in the murder of Benazir Bhutto and not providing her with enough security after she expressed fear for her life. He is also being held over his detention of high court judges in 2007.
Musharraf returned to Pakistan in March to contest the election on May 11, amid death threats from the Pakistani Taliban. In mid-April he was banned from standing as a candidate, crushing his ambition to re-enter public life. His arrest warrant was issued shortly afterwards.
It was confirmed that the hearing for the Bhutto case that Zulfiqar was en route to also pertained to Musharraf. Musharraf maintains that the Pakistani Taliban were the sole group behind Bhutto's death.
Zulfiqar additionally headed the prosecution in a case relating to the 2008 bombings and shootings that rocked Mumbai, killing 166. Ajmal Kasab, the sole surviving attacker, confirmed that the 12 coordinated attacks across the city were carried out by a Pakistani militant group, Lashkar-e-Taiba, before he was hanged.
India has criticized Pakistan for not doing more to crack down on the militant group as a whole. Seven men have been put on trial for their alleged assistance in the attacks, but little progress has been made and the head of the group remains free.