Zimbabwe switches to greenbacks as local currency chalks up the 0's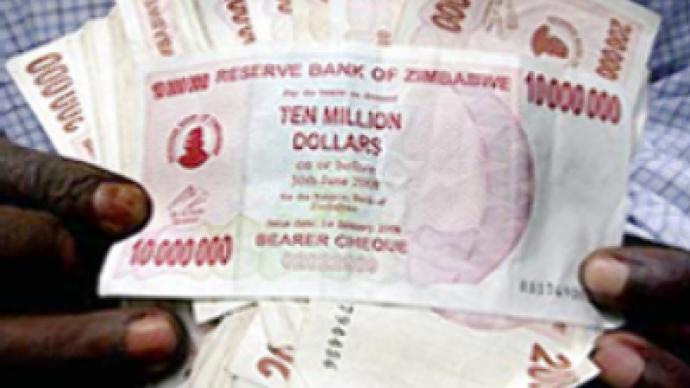 Galloping inflation has forced the Zimbabwean Government to accept foreign currencies as legal tender. It is hoping the move will reduce the role of the black market and bring some relief to Government's own depleted coffers.
Since independence in 1980, the Zimbabwean dollar has become a miniscule fragment of its former self. The dollar which back then was more than equal to its U.S. counterpart is trading at less than 6000 to the Greenback today – and that's after two official revaluations which have knocked a total of 13 '0's' off the comparison from the Zimbabwean side of the ledger.
With the Zimbabwean economy in ruins residents have been forced to seek jobs abroad, particularly in South Africa, and Government attempts to impose price controls have seen the black market become an ever bigger part of the National economy, and pushed inflation to astronomical levels. With an inflation rate of 2 million percent in July – that's the official rate, unofficially its much higher – the government has decided its time to try something different.
The chief of Zimbabwe's Reserve Bank, Gideon Gono, has announced that 250 wholesalers and 1,000 retailers would be licensed to accept foreign currency as an 18-month "experiment".
Britain's Daily Telegraph quotes him as saying: "These reforms are essentially a pragmatic response to the realities in the economy. We have watched and observed with heavy hearts the suffering of fellow Zimbabweans as they wait and continue to wait in long queues at the borders as they bring in basic commodities."
To put that in perspective, scones, which were costing $50 million Zimbabwean for three in May, are going for $1 Billion Zimbabwean apiece. This is bringing the problem of cash availability to the fore. The local currency itself is in short supply, the Daily Telegraph notes, as the German company that supplied its banknote paper has stopped shipment. This in turn is seeing locals more frequently using U.S. dollars, and South African Rand.
At the Zimbabwean Reserve Bank Gideon Gono insists that Zimbabwean dollar remains legal tender and that the Government was not going to dollarise the economy.
You can share this story on social media: