Zenit fans defile legend's memory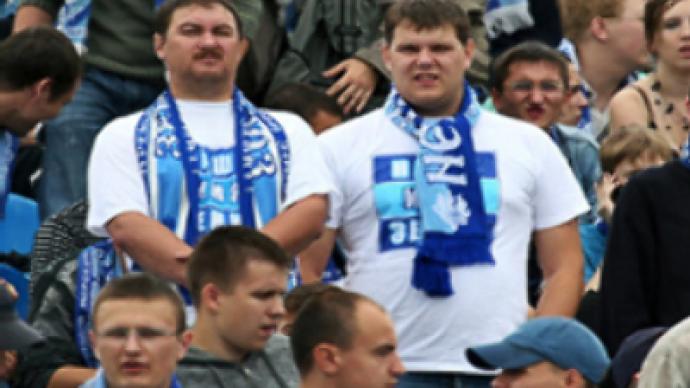 The behaviour of Zenit fans at Saturday's match with Dinamo Moscow has brought shame to Russian football. Supporters of the St Petersburg team displayed a banner which profaned the memory of Lev Yashin, one of the greatest goalkeepers in the history of football.
Not only did the encounter leave Zenit without Champions League football next season, it also resulted in a scandal which once again raised the question of fan behaviour in Russian stadiums.
"Your Yashin died, your Dinamo will die too," the banner said. It shocked not only Russian football authorities but also the fans of all other Premier League teams.
Football officials wanted to stop the match at Petrovsky stadium when the offending placard appeared. But it soon disappeared and the game went on.
It ended 1-1, guaranteeing Dinamo third spot in the table and a chance to play Champions League football next season. Zenit, who won the championship in 2008, dropped down to 5th place, which is a poor result for Russia's richest club.
The All-Russian Fans' Union has issued a statement which condemned the actions of Saint Petersburg supporters.
"We are outraged by the prank of some Zenit supporters, who posted a banner during the match of the 29th round with an unprecedentedly cynical affront to the memory of the great Russian player and person, a diamond in the world's football treasury, Lev Ivanovich Yashin. It's obvious the organizers of this silly excess crossed the brink of fan ethics, which is always present even in complex relations between the supporters of antagonist teams", the statement said.
Zenit Saint Petersburg promised to launch a thorough investigation into the matter and find those responsible.
The Premier League may go a step further and impose sanctions on the club.
Lev Yashin, nicknamed the Black Panther, played for Dinamo in the 1950s and 60s. He's the only goalkeeper in history who was awarded with the Golden ball, a prize given to the best footballer in Europe. The Soviet national team had one of their most successful periods ever with Yashin in goal, winning Olympic Gold in 1956 and the European Championships in 1960.
CSKA claim silver in Russian Premier League
Dinamo moves one step closer to Champions League
You can share this story on social media: