Yushchenko testifies in poisoning case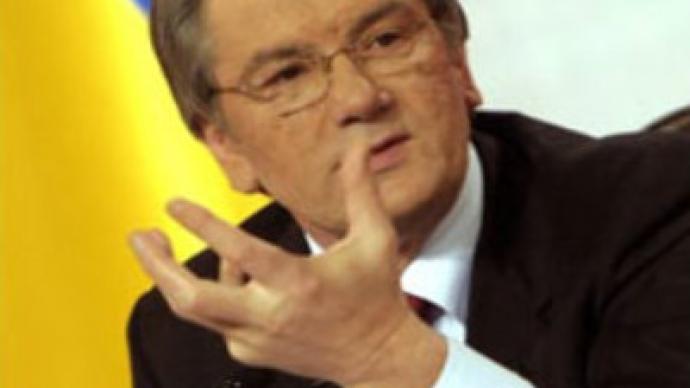 Ukrainian President Viktor Yushchenko has spent all of Tuesday at the General Prosecutor's Office testifying in the case of his own alleged poisoning in 2004. During the presidential campaign of 2004 Viktor Yushchenko suffered a serious decline in his hea
He was taken to a clinic in Austria where doctors found dioxin in his body.
By the time he left hospital Yuschenko's looks had changed dramatically. Pockmarks had appeared on his face and the upper part of his body.
Yushchenko says he was poisoned during a dinner with top officers from the Ukrainian security services near Kiev on September 5, 2004. The Deputy Head of the Ukrainian Secret Services, whose residence was the venue for the meeting, fled the country soon afterwards. Nevertheless he denied all the allegations of poisoning the presidential candidate.
The Ukrainian Prosecutor's Office has launched a criminal investigation into the case.
There are many versions of what happened to Viktor Yushchenko.
The most popular is that former Ukrainian president Leonid Kuchma, who supported Yushchenko's rival Viktor Yanukovich during the campaign, was behind the plot to assassinate the pro-Western politician.
Others suggest the poisoning was carried out by the Ukrainian mafia.
Some think the Russian government was behind the poisoning. Yushchenko has never said so out loud, but he has frequently claimed that Moscow is doing everything it can to hinder the investigation, pointing out that three of the main suspects in the case are living in Russia at the moment.
Another Russian connection in the case are the allegations against Russian political analyst Gleb Pavlovsky. It's rumoured that the Ukrainian Prosecutor's Office possesses an audio tape which proves his involvement, but this has never been revealed.
Yet another theory is that Yushchenko is suffering from leprosy, a highly contagious disease. In 2006 Russian academic Igor Gudarov called Yushchenko a threat to Ukrainian health and to the lives of the world's top officials he meets on international trips.
Recently, 2008 Ukrainian opposition MP David Zhvaniya claimed Yuschenko had not been poisoned. According to his information, the changes in Ukrainian president's appearance were caused by food poisoning and inflammation of facial nerves.
Some versions are way out there. Russian psychic Yuriy Longo said that Victor Yushchenko died back in 2004 and the Ukrainian official had to contact Longo, who brought the current Ukrainian President back to life.
Meanwhile, the latest poll showed that 41.2 per cent of Ukrainian population don't believe that their president was poisoned.
You can share this story on social media: