Within a hair of Bigfoot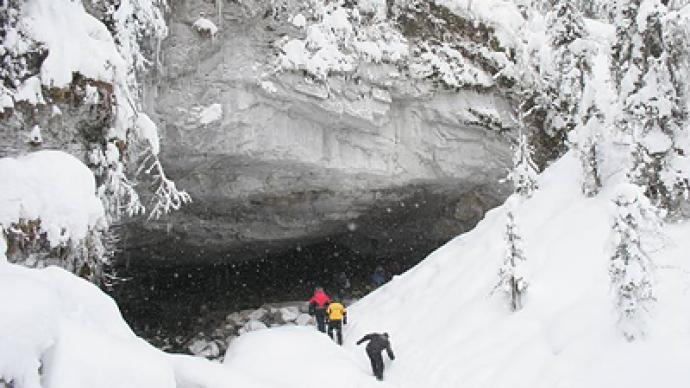 The Russian Academy of Sciences has said it is highly likely that the Bigfoot really exists. Experts came to the conclusion after carrying out a microscopic analysis of hairs believed to belong to the yeti found in the Kuzbass region of Siberia.
In early October, "yetiologists" from the USA, Canada, Sweden, Estonia and Russia came to the Kuzbass region to look for evidence that would prove the existence of the Bigfoot. The trip was not in vain – footprints apparently belonging to the yeti were found dotted all over the inside of the Azass cave where the creature is thought to live.  The follicular evidence was found stuck to a huge footprint on the cave's clay floor. Professors from Moscow, St. Petersburg and Idaho Universities got themselves a couple of precious hairs each to do the necessary research. The hairs turned out to be identical to ones that allegedly belonged to a Californian yeti, another from the Russian Urals and a third from the Leningrad region, writes Komsomolskaya Pravda.The first to make the fantastic discovery was Professor Valentin Sapunov, a member of the New York Academy and Peter Academy of Sciences and Arts – a geneticist and biophysicist. "In St. Petersburg the hairs were examined through a special microscope," said Valentin Sapunov. "This is a complicated, but a very efficient method. The hairs were sprayed with a chemical composition, and then various slices of the hairs were examined. This gave us an opportunity to draw comparisons between the hairs of different biological species," the professor explained. When the tests were finished, the hairs found at the Azass cave were compared to those brought from California, the Russian Urals and the Leningrad region. "And they all proved to belong to one and the same species! The research of our American counterparts showed the same," said Sapunov with ill-concealed excitement.The results of the analysis made it possible for the scientists to officially rate the probability of  the Bigfoot really existing at an astonishing 95 per cent, the professor says."For the record, I state that the possibility the yeti exists exceeds 95 per cent. I had long ceased to doubt the Bigfoot is real – this is why I have been trying to collect as much information about him as possible for the last 20 years," Sapunov said. The next step in the scientific quest to prove the existence of the yeti will be to use the hairs to examine and interpret its genetic code.  "A group of researchers from the Zoological Institute of the Academy of Sciences have already started doing that. But the process is very complicated, so it might take quite a long time," Sapunov told Komsomolskaya Pravda."It is hard to persuade the world we have some real results," complained Sapunov. "But I believe that one day scientists will meet the Bigfoot in person. This is inevitable," he concluded.
You can share this story on social media: