First Guantanamo panel verdict: Yemeni 'forever prisoner' recommended for transfer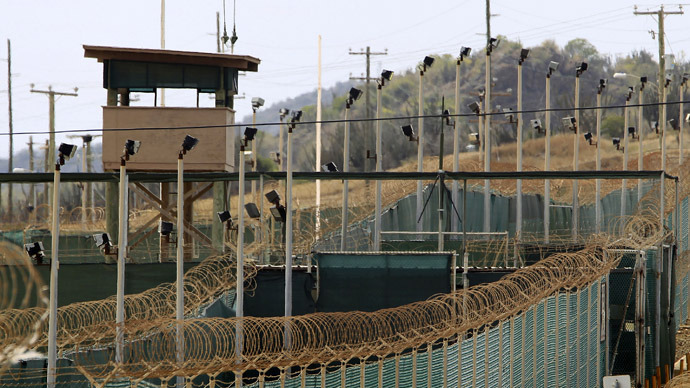 A Yemeni (allegedly one of Osama bin Laden's bodyguards), who spent 12 years at Guantanamo, previously deemed too dangerous for release, has been cleared for transfer by a military panel, set up by Obama's administration to review detainee cases.
Mahmoud al Mujahid, 36, was among the first to arrive at the detention facility in 2002. He is now the first to have his case reconsidered by a Periodic Review Board (PRB), a panel consisting of senior defense and intelligence officials. PRBs were introduced in 2011, but weren't summoned until Mujahid's hearing on November 20. The verdict of the first panel was released on Thursday.

"By consensus, the PRB members found that continued law of war detention is no longer necessary to protect against a continuing significant threat to the United States and that Mujahid is therefore eligible for transfer subject to appropriate security and humane treatment conditions," the US Department of Defense statement reads.

The decision makes Mujahid one of 77 detainees who have been approved for transfer from Guantanamo, which currently holds 155 inmates. It's not yet clear when Mujahid will leave the facility and where he will go, as transfers to his native Yemen have been hampered by instability in the country.

Opponents of the repatriation, refer to the December-5 terrorist attack, which rocked Yemen's Defense Ministry in the capital of Sanaa, killing 52 people.

"I continue to be concerned about the security implications of transferring dangerous people to dangerous places like Yemen," The New York Times cited Representative Howard P. McKeon, Republican of California.

The Department of Defense statement says favorable conditions for the Yemenis' repatriation would include an improved security situation in their native country, and an available rehabilitation program there. They could also go to a third country, if that option becomes available.

Currently 56 Yemenis, cleared for release, have been awaiting their transfer. Mujahid's attorney, David Remes, has urged a speeding-up of the process.

"We are pleased with the decision. Now that Mahmoud has been cleared, he can be transferred — there is no justification for holding him," Remes said, as cited by The Washington Post. "After 12 years at Guantanamo, it is time to reunite him with his family."

The Guantanamo Review Task Force, which reconsidered the detainees' cases prior to the establishment of the Periodic Review Board system, held three hearings on Mujahid's case in 2010. And each time it ruled to detain him indefinitely.

Mujahid is believed to have trained at Al-Qaeda camps in Afghanistan and to have been one of Osama bin Laden's bodyguards, according to his profile made public on Thursday at the Periodic Review Board Secretariat's web-page. The allegations previously made him one of 48 of the so called "forever prisoners" deemed too dangerous ever to leave Guantanamo, but unable to face charges due to lack of evidence.

Other unclassified Defense Department documents on Mujahid describe him as a no-problem and cooperative detainee throughout his 12 years at the facility. He learned English at Guantanamo, attended computer classes and was twice elected block leader by the prisoners for what he himself puts as his "ability to diffuse conflicts."

Mujahid's profile says he "has mentioned non-extremist aspirations for life after Guantanamo." The detainee elaborated on what exactly he was going to do once freed in his appeal to the Periodic Review Board.

"When I'm released I will look for work… I will want to get married and start a family while I can perform my responsibilities as a husband and a father. Most of all, I want to catch up with life."

The rest of the "forever prisoners" will also have their cases reconsidered by the military panel. The next hearing is due to take place on January 28.
You can share this story on social media: