Unemployment behind increase in Al-Qaeda presence in Yemen - President
Social and economic troubles in Yemen have been among the key reasons for Al-Qaeda's rise in the country, President Abd Rabbuh Mansur Hadi told RT.
He believes peace and stability in the conflict-torn country could be reached only through dialogue involving all strata of Yemeni society.
RT:Mr. President, what subjects did you discuss with Russian President Vladimir Putin during your meeting?
Abd Rabbuh Mansur Hadi: First of all, I'd like to thank RT's Arabic channel Rusiya Al-Yaum for what it's doing for the Arab world as a whole and Yemen in particular. This is my first visit to Russia since I was elected in 2012. I came to thank the Russian government and Mr. Putin for supporting the people of Yemen at the time of crisis in 2011.
Yemen was on the brink of civil war, but its political forces – the ruling party, opposition parties, together with our social, youth and women's organizations agreed that we should take the way of peace and stop the civil war that had been raging in our capital city Sana'a for more than a year.
We all agreed that we were going to act according to the Gulf Cooperation Council initiative and its implementation mechanism. We then held an early election on February 24, 2012. A compromise president was elected, and we continued to establish peace in Yemen according to the mechanism I mentioned above. We also managed to stop hostilities in Sana'a and other provinces, because, as you know, the army and security forces were divided, tribes were divided, and the capital itself was divided.
People went to polling stations while there were still barricades and guns on the streets, because they wanted peace, not war.
Now we are moving towards implementing the initiative put forward by the Gulf countries and establishing ceasefire, as well as withdrawing troops and forming a national coalition government.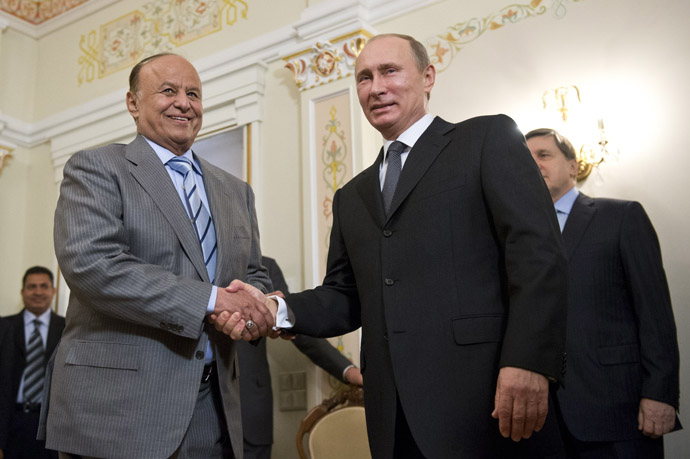 The National Consensus Government was formed in such a way that the Prime Minister represented the opposition, and the President was from the ruling party. I was chosen to be President in the nature of a compromise.
We are following the plan outlined in the initiative: we promised to fix water and energy supply, open the roads that connect the provinces; we, as well as the militants, withdrew our forces and sent them to free Abyan province from Al-Qaeda. Militia made up from local population helped us do that. We forced Al-Qaeda out of Abyan and have partially freed Shabwah province.
We have started refresher training and the reorganization of our military, and are now in the process of country-wide restructuring of our military forces, the Interior Ministry and its departments – all in accordance with the initiative. A special commission made up from our Jordanian and American experts is giving us a hand with that. There's also an EU commission working with Jordanian counterparts that helps us restructure our Interior Ministry. What we're doing now is basically building up our military and security forces from scratch.
We have embarked on the path of a national reconciliation dialogue.
I talked about all these things with Russia's President Vladimir Putin, as Russia is one of the five permanent members of the Security Council, which backed the Gulf Cooperation Council Initiative and the mechanism of its implementation.
We discussed a number of standards that our armed forces are supposed to meet. As you know, the weapons we use in Yemen were made in Russia, as well as tanks, planes and helicopters. The lifespan of some of these weapons has expired, and we agreed to continue military cooperation in this field.
We spoke about economic issues, and I also thanked Russia for preventing Yemen from degenerating into a civil war. Russia has played a role in this by taking a firm stance to support the Gulf Initiative.
A civil war in Yemen would have reverberations both across the Arab world and the global community.
RT:Mr. President, earlier you mentioned military relations with Russia. Shall we expect any agreements to be signed in this area in the future?
ARMH: We've got plenty of long-term military agreements with Russia.
I informed President Putin that other countries had provided Yemen with financial help in order to help it get out of the crisis. We do ask for support but we do not want Russia to simply invest into Yemen – we would like Russian companies to help us extend the working lifespan of fighters, cargo aircraft, tanks, motor vehicles and supply replacement parts to us.
RT:Mr. President, the National Dialogue Conference is now a pivotal event for Yemen. How would you estimate the results that have been achieved so far after two weeks of work?
ARMH: This is the first conference of this kind held in Yemen or any other Arab country at all. We have been preparing this conference for six months abiding by the initiative of Gulf states and its implementation mechanism. This national dialogue is now underway and it is going to last about six months more. All the issues will be split into nine main divisions. The discussion will kick off with addressing the problems of the southern part of the country, then we will move on to problems in Saada province, economic issues, and nation-building.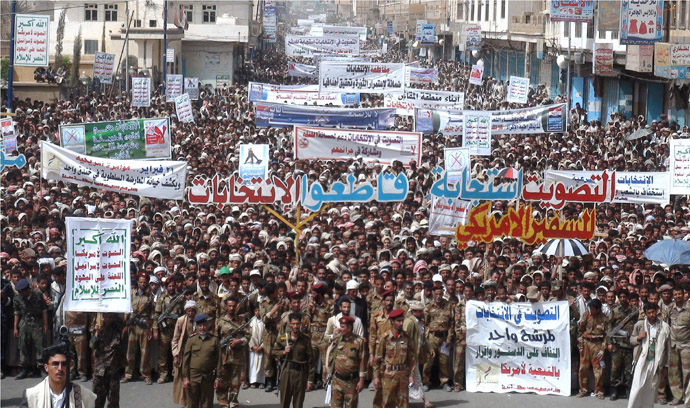 In Yemen, 75 per cent of the population is under 45 years old. So this new young generation is looking forward to changes, and these changes can't be carried out by a previous generation, which has been in power for 50 years. The new generation must take part in building their own future. That is the reason why the youth, women, civil society organizations, small parties and new parties established after the events are involved in the dialogue. There will be 565 representatives from these groups and they all will be a party to the process. The dialogue will be headed by the president of the Republic of Yemen who will be guided by the needs of all social layers.
Yemen needs changes. For 50 years there have been internal conflicts going on in the country. In the past there was North Yemen and South Yemen, and there was bad blood between the two states. In 1990 they were unified into the Republic of Yemen but even this move didn't make the parties adjust their course. So it led to the war of 1994 – one party pushed another aside from power. Such actions don't fit with modern conceptions – you can't just overthrow another party. The people of Yemen have found themselves at a crossroads, choosing between a civil war and nationwide reconciliation, whereby the system of governance would be reformed peacefully so that none of the communities would feel oppressed and discriminated.
Yemen is in a complicated economic situation right now. In the 1960s we launched a bold campaign to eradicate illiteracy, poverty and diseases, but 50 years on we still find ourselves living hand-in-hand with illiteracy, poverty and diseases.
RT:There have been reports in the media announcing the destruction of a terrorist network that was planning attacks in order to prevent a dialogue. You made a public statement as well, Mr. President, saying there are forces that seek to upset all efforts at reconciliation. Who do you think might be interested in disrupting a nationwide dialogue for a safe, consolidated Yemen?
ARMH: Whenever there is a change underway, there are those who support it, and those who oppose it. There are also domestic and external players. For example, Iran doesn't like it that Yemen should deal with its issues at its own discretion. They have a different attitude, and different methods. We arrested their vessels and their arms, and requested them to help Yemen in resolving its problems rather than export more problems into Yemen. Yemen is ridden with poverty. We have 6 million people aged between 15 and 28 who are unemployed. We have 600,000 university graduates from both humanitarian and technical schools who have spent the last 10 years looking for employment. Some of them despair and commit suicide, and some of them join Al Qaeda. That is why we don't want our friends and neighbors to export more problems into our country; we can barely handle our existing difficulties. And we don't want to have weapons smuggled into our country, because Yemen is already one of the most heavily armed nations in the world.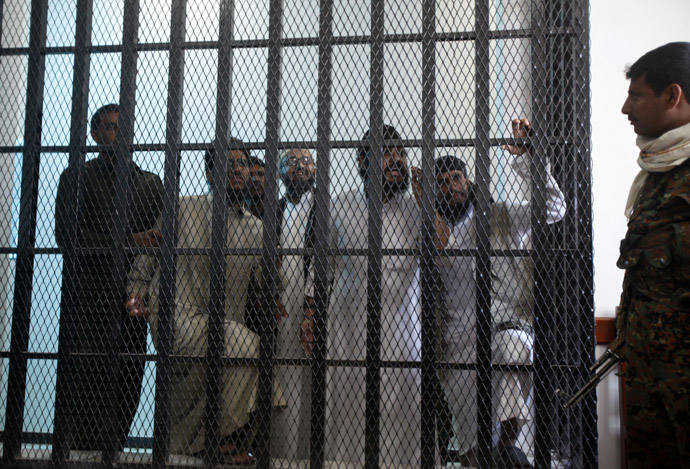 RT:So you believe that unemployment has been one of the reasons for the increase in Al Qaeda's presence in Yemen?
ARMH: Yes.
RT:You said the government had a plan to combat Al Qaeda in Yemen, and you did take steps to clear Abyan of its presence, etc. Is it possible to say today that the Al Qaeda network in Yemen has been destroyed?
ARMH: Al Qaeda has not been destroyed completely, just as it hasn't been destroyed in any particular country. There is an Al Qaeda presence in the United States. There is Al Qaeda in Europe. There is Al Qaeda in Russia, and in any country. It maintains its presence by way of the so-called "sleeper cells." Al Qaeda has become a network without borders. As we were wrestling Abyan from them, we came across Al Qaeda fighters who had come over from Pakistan, Chechnya, Europe, the US, and other places. They had intended to establish their own government in Yemen, and when hostilities broke out in Sanaa, they thought it was time to set up their government in Abyan. But with God's help, and with support from popular committees, our military and security forces managed to take down the government that Al Qaeda was trying to impose on the province. However, they still have their sleeper cells in some parts of Yemen, as well as outside the country.
RT:The government of Yemen has addressed the United States with several requests to have Yemeni inmates of Guantanamo Bay and the Parwan Detention Facility in Bagram, Afghanistan, returned to Yemen. Why has this issue remained unresolved to date?
ARMH: I spoke with the US Justice Secretary during my visit to the United States. We have agreed that they would hand us over every Yemeni national detained at Guantanamo Bay. We have made arrangements, and we are now moving toward a transfer of detainees under those conditions. I hope we will have this accomplished in the nearest future. We believe that keeping someone in detention for over ten years without due process is clear-cut tyranny. It'll be difficult to rehabilitate someone who has been through such an excruciating experience - 10 years of imprisonment without due process. The United States is fond of talking democracy and human rights. But when we were discussing the prisoner issue with the American Justice Secretary, he had nothing to say. I told him, "Your country is always out there promoting liberty and human rights. Are you okay with someone being kept in your prison for ten years without due process?" He said, "Personally, I'm not happy with that." So we made a deal to have them handed over to Yemen as soon as possible.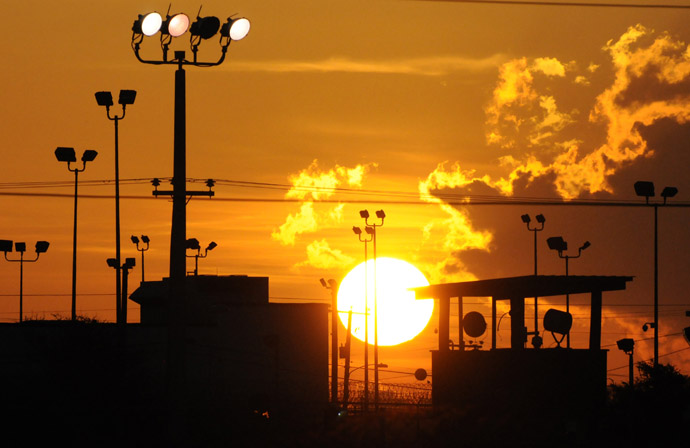 RT: How soon will it be done?
ARMH: God willing, it will be done.
RT: Finally, I suppose you're having a meeting with representatives of the Russian trade and industry, including Gazprom. Should we expect a future cooperation between your country and Russia in the energy sector?
ARMH: We have cooperated in the past. Yemen is open not only for Russia but for all the companies that are working in oil exploration. There are several areas with supposed oil fields in our country. 34 companies, including Russian ones, began drilling but were forced to leave due to the 2011 events. We are going to ask these companies to return to the same areas where they intended to begin developing oil. They spent two or three years on a geological survey. All they had to do was to start drilling. Some of the Russian companies discovered natural gas while exploring oil but they mothballed some of the gas fields. We held talks and asked them to return. Today natural gas is considered to be more valuable because it's one of the clean energy sources. Some cement factories and other industries are running on gas. It doesn't pollute the environment.
RT: Mr. President, what would be your message to the people of Yemen at this moment?
ARMH: I am telling the people of Yemen: believe in dialogue, believe in those you've elected, because they are taking you down the road of peace, and of building a new Yemen which you've been aspiring for. We wish you success in dialogue. We wish you to bring Yemen to the shore of stability and security.
RT:We're wishing you success in your dialogue, and hope you can bring about the ultimate peace and stability. Thank you.
You can share this story on social media: